By Gerry Barker
We are just back from a 10-night cruise of the Pacific Northwest on American Cruise Lines' ship, American Constellation. It was our first time to experience this cruise line, which for 50 years has been navigating America's rivers and coastlines, from Florida to Alaska. Headquartered in Guilford, Connecticut, it has a fleet of 17, U.S.-flagged ships, all built at their own shipyard.
Constellation is one of their Coastal vessels, specializing in cruises in the Northwest and Alaska. Our journey is named Grand Puget Sound. Departing from Seattle, it sailed the San Juan Islands with stops at Bremerton, Tacoma, Friday Harbor, Anacortes, Port Angeles and Port Townsend, all in Washington State.

Commissioned in 2017, the ship has a passenger capacity of 170, and on this cruise there were around 110 of us on board. The weather started in typical Seattle fashion — damp, cold (at least, for these Florida residents) and rainy — but soon enough turned bright, sunny and almost hot, as an unseasonable "heat dome" settled over the area. By the time the cruise ended back in Seattle, temps had gone from the high 40s when we arrived to the high 80s.

As first-timers, we found a lot to like about ACL's brand of small-ship cruising. Here are our Top 10:
The Pre-Cruise Hotel Stay. Guests have the option of adding a pre-cruise hotel stay, and that was a welcome arrangement they included for us. Going from Palm Beach, Florida to Seattle is akin to a flight to Europe, so we had a long travel day, plus a three-hour time change. ACL even included a pre-paid Uber to the hotel — The Four Seasons in downtown Seattle. At the hotel, everything we needed to board the ship was conveniently provided by the desk clerk, including a packet with our name tags and boarding papers. There was a buffet breakfast the next morning, where we met our fellow guests and the ship's excursion directors. We had a two-hour Seattle city tour before the bus dropped us off at the ship, where our luggage was waiting for us in our stateroom. Now that's service.
2. The Crew. Every cruise line likes to think their customer service is the best. In the case of ACL, it's really true. More than just saying "we treat you like family," they do. As we boarded, the ship's cruise director, Jerry, handed out glasses of champagne. But as the cruise got under way, what was really impressive was the way the senior officers engaged with the guests, and pitched in to do whatever job needed to be done. Rick, the hotel general manager, was frequently busy filling drink glasses in the dining room. Throughout, the wait staff seemed genuinely happy we were there, and did their best to accommodate any request. Case in point: I prefer Coke Zero, which the ship doesn't stock. I mentioned it to one of the staff and within hours, there was a knock on our stateroom door. It was a delivery of Coke Zero. Here's also a shout-out to the ship's captain, Bryan Hobcroft, who also gave us a lot of his time, including visits to the Bridge.
3. Easy to Get Around. As cruise ships continue to get bigger and bigger, we find ourselves drawn to the ones that are smaller. You learn the ship's layout in hours, not days. Constellation has two major gathering spots: The Cascade Lounge, for entertainment and events, and the Sky Lounge, where you can dine buffet-style and enjoy the view with inside or open-air seating. Each floor also has a mid-deck lounge for reading, games or just hanging out. Main dining is on the first floor, and there's more lounging areas on decks 5 and 6, including a putting green, plus an exercise room. No, there's no spa, casino or shopping, but that's fine by us. As Pam can testify, there's plenty of shopping in the local ports of call. Our only suggestion was extend the bar hours past 9:30 — sometimes you want a nightcap to sip under the stars.
4. All-inclusive. When ACL says their cruises are all-inclusive, believe it. Your fare includes all meals, drinks (non-alcoholic and alcoholic), WiFi (the line just switched to Elon Musk's Starlink), gratuities and basic excursions in each port. There are some premium excursions that are extra-charge, but that's about it. We even found out there's no charge to use the guest laundry, and if you request it, housekeeping will launder your clothes.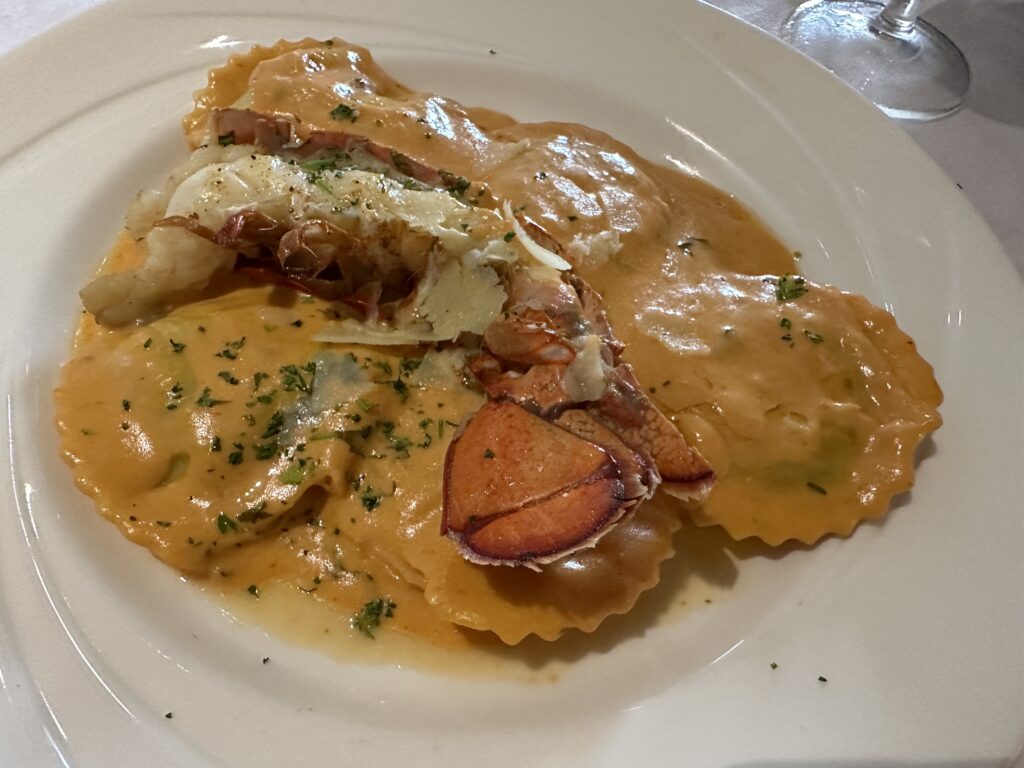 5. The Food. While the menus on Constellation are somewhat limited (two selections for lunch and three for dinner), we found the food above average. Guests are asked to fill out daily menu cards indicating their food choices, and whether you want a whole or half-portion. While you are aren't bound by what you pick, it gives the chef a general guideline for what to expect. And at just about every meal, the executive chef circulated among us to see how we enjoyed the food. While on the subject, special recognition to Jailaa, the ship's pastry chef, who delivered outstanding desserts. I almost had to make time for that exercise room.
6. Our Stateroom. With its breezy, casual decor, our stateroom on deck 4 was surprisingly roomy, with plenty of drawer and closet space for 10 days of cruising. Our balcony also seemed larger than on most ships, and had outdoor carpet, a nice change as well. The bathroom was separate, with a single sink, and the shower was a bit tight. But no worries about getting hot water and plenty of water pressure. One thing missing in the room was a telephone, but we did learn they have plans to add one. In the meantime, there's a red button you can press for medical emergencies.
7. Afternoon Happy Hour. Every day, from 5:30- 7 pm, the ship hosts a happy hour in the Cascade Lounge. There's quite a selection of food, including shrimp and crab legs most days, along with the drink of your choice. Entertainer Jeff Spence was on hand to play the piano while we sipped cocktails. Speaking of drinks, we should make mention that when returning from an excursion, there was a welcome drink waiting, often related to the port we were visiting — another nice touch.
8. The Excursions. One of the truly rewarding aspects of small ship cruising in the U.S. is the opportunity to learn about the diversity, culture and history we have in our own country. Each port we visited had its own unique charm and story to tell. Along the way we went whale watching, took a ferry to Canada to see the world-famous Butchart Gardens and sipped lavender lemonade at Lake Crescent Lodge in Olympic National Park, not to mention the fabulous Museum of Glass in Tacoma. For its tours, ACL uses modern, 57-seat motorcoaches, and we were guided every step of way by Excursion Directors Miranda and Mikalla, who did a great job.
9. Sluys' Bakery. At Bremerton, we took an excursion to nearby Poulsbo, called "Little Norway" for the settlers who lived there. The historic downtown is indeed like taking a trip to that Scandanavian country, and the highlight of our visit here is Sluys' Bakery. In fact, the line to get in was so long, we couldn't wait. But hold on — on the bus ride back, Hotel GM Rick bought donut holes for everyone on the bus, along with several sacks of donuts he was taking back to the crew. Later, he brought us a full-size donut (it was huge) to sample and talk about melt-in-your-mouth. Thank you, Rick!
10. Mother's Day. The last day of our cruise fell on Mother's Day. Rick and Jerry had promised something special, and they delivered. As we came to breakfast in the main dining room, they were greeting mothers with flowers, chocolates and a photo taken under a canopy of pink and red balloons. The chef had arranged a special buffet and dinner menu as well. It created another special memory as the cruise came to a conclusion.
(Our thanks to American Cruise Lines for hosting us on this cruise)