New Artwork "Guns Kill" by Bonnie Lautenberg Launches National Initiative at giffords.org/miamiexhibit Honoring 10th Anniversary of the Giffords Foundation to Protect Americans from Gun Violence.
"Americans are demanding a safer future, and if we come together we can create a future free from gun violence," says Former Congresswoman Gabby Giffords, Founder of the gun violence preventing organization, Giffords.
Contributors at giffords.org/miamiexhibit will will receive a first edition, fine art print of the artwork Guns Kill, signed by Lautenberg (100% of the proceeds will benefit the Giffords organization's mission to protect Americans from gun violence).

Bonnie Lautenberg and former congresswoman Gabby Giffords

 More About the Dangerous New Permitless-Carry Legislation Being Proposed: Would Recklessly Strip Away Gun Safety Protections  Gabby Giffords recently visited Lautenberg's museum exhibition, at a time when legislation is currently being proposed in Florida that would allow people without any permits or training to carry concealed firearms. People who have never passed a background check or fired a gun in their lives will be allowed to carry a concealed gun in public. Similar laws in other states have led to dangerous increases in gun homicides.Currently, people who want to obtain a concealed carry permit in Florida must pass a background check, complete firearm safety training, and meet heightened eligibility standards. These provisions help ensure people with a history of violent behavior cannot carry firearms in public places. Between July of 2021 and June of 2022, more than 7,600 Florida residents with a disqualifying history were prevented from acquiring concealed carry permits for these same reasons. This new permitless carry legislation would strip these important provisions."I created this artwork especially for Gabby Giffords," says Bonnie Lautenberg. "I added tears streaming down the face of the Statue of Liberty, the two simple words 'Guns Kill' on her crown, and locations of mass shootings written across Lady Liberty's arm "It saddens me deeply that the list of so many places keeps growing where Americans continue to lose loved ones to gun violence," adds Lautenberg. The exhibition Lady Liberty: A Bonnie Lautenberg Retrospective has been extended due to popular demand for two more months, until May 14 at the Jewish Museum of Florida-FIU through May 14 The artwork is currently on view at the Jewish Museum of Florida-FIU in Miami Beach, where the exhibition Lady Liberty: A Bonnie Lautenberg Retrospective has received rave reviews – with national acclaim by Artnet News as one of the "Must-See Museum Shows During Art Basel Miami Beach" and as "One of the Hottest Exhibitions During Art Basel Miami Beach" by Elite TravelerMagazine. Bonnie Lautenberg divides her time between New York and Florida, where she has a second home in Palm Beach. The artist was selected by the Jewish Museum of Florida-FIU to headline its new season due to her rising national acclaim, and because Florida is her home during part of the year (the museum's mission is to exhibit the work of Florida artists). Located in South Beach's historic Art Deco District, this museum was originally the first Synagogue in South Beach – making this a full-circle moment for Giffords because she recently took the spiritual milestone step of completing her bat mitzvah as an adult. Giffords' father was Jewish, and she has been exploring and studying her Jewish faith for more than 20 years. Working with Lautenberg to present this initiative here is especially moving for Giffords, because this is the State of Florida's official museum dedicated to telling the story of more than 250 years of Florida's Jewish history, arts and culture. Being surrounded by her friend's museum exhibition, with her photographs and artworks of powerful women, makes it even more special to Giffords. Watch the new video  Gabby Giffords has joined forces with the artist Bonnie Lautenberg to raise funds to protect Americans against gun violence."Giffords' recent bat mitzvah in 2021 was as joyous and tearful as you'd expect," states this moving piece in The Forward, which goes on to say: In 2011, Giffords was shot in the head in an attack that left six people dead and 13 injured at a Saturday morning constituent meet-and-greet outside a grocery store in Tucson. Giffords resigned from her public office at the U.S. House of Representatives, but her work as an advocate to protect Americans from gun violence continues. The article by Amy Silverman also states: For Giffords, her Jewish studies have been an important source of strength, culminating in her recent bat mitzvah ceremony. Learning to chant a Torah portion in Hebrew, studying the meaning of the text and offering an interpretation to the congregation, not to mention memorizing all the prayers that accompany the ceremony, can be a lot for anyone, whether you're 13 or 51. But Giffords' bat mitzvah also came with additional challenges, and concluded a long, hard journey. It was an emotional moment two decades in the making."The story of the Jewish people is one of endurance, of bravery, of the will to keep going — and learning those stories has been a source of comfort and inspiration to me. I've had to keep going, to believe I could keep moving, in my own life. So many people who've been injured, or suffered a loss, struggle to keep moving."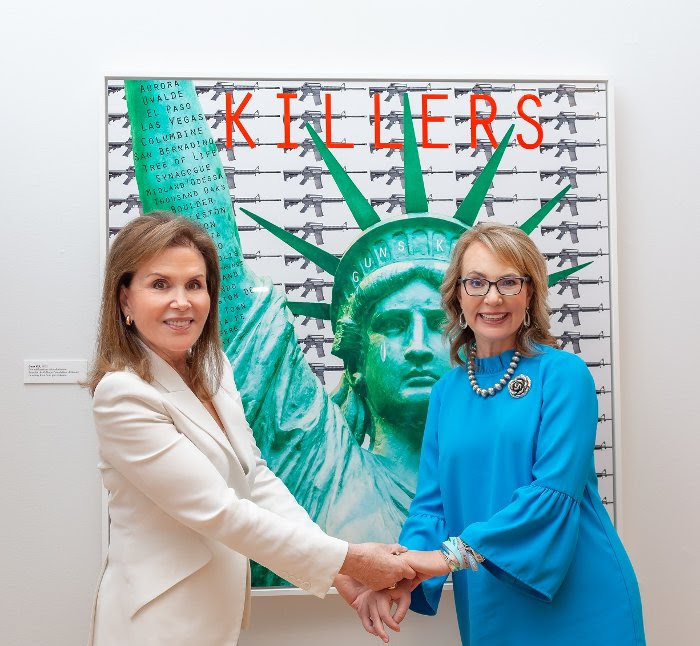 About Giffords 

Giffords is a leader in the movement to end gun violence in America. Led by the former Congresswoman Gabrielle Giffords, the organization brings decades of political, legal, and policy expertise to the fight for gun safety. Nearly 50,000 people died from gun violence in the U.S. in 2021. This uniquely American crisis leaves no community untouched — but it doesn't have to be this way. From universal background checks to community-based violence intervention strategies, we know that there are proven solutions that will make our country safer. In statehouses and courthouses across America, we're taking on the gun lobby and winning. Since the tragedy at Sandy Hook in December 2012, the organization has helped pass more than 525 gun safety laws in nearly every state and Washington DC.  Gun violence is a complex problem, and ending this epidemic will require a wide range of solutions. Giffords is committed to seeing this fight through, until the promise of a safe and just country is a reality for every person and community in America. About the Artist Bonnie Lautenberg Bonnie Lautenberg is an artist, photographer and writer. Her works have been featured in gallery shows, museums and art fairs throughout the country. In 2022, Lautenberg was appointed by the White House to the President's Advisory Committee on the Arts.Lautenberg is the type of artist who seamlessly communicates her seasoned life experiences through the lens of her camera and her digital canvas.Currently, she divides her time between New York and Palm Beach ‒ retaining the ties she nurtured in Washington, DC while she was the wife of the late Senator Frank Lautenberg. She has been described as "having enough Washington insider stories to fill a book." 
Bonnie Lautenberg 

Lautenberg's works reflect the inter-generational power and talent of women, the challenges of our current era, and the joy that can be found in everyday living. She is recognized for being intuitively attuned to the zeitgeist: for capturing the real energy that is going on right now. In her art, she asks: what is of importance, how can art move and inspire viewers to take actions in their own lives? "During this time, when history is repeating itself, there can be a sense of powerlessness. But my artworks are about the direct opposite. These are works about power. Personal power. Women exercising and cherishing their personal freedom, using their own power and talents to amend what is going awry ‒ women like Gabby Giffords who are braving and bettering the world," says Bonnie Lautenberg.Lautenberg's work is in several private and museum collections, including the permanent collections of: The Smithsonian National Museum of African American History & Culture; the Boca Raton Museum of Art; the Collection of Norman and Irma Braman; New York Historical Society Museum; the Broad Museum in Los Angeles; The Newark Museum of Art; Portland Museum of Art; and Stillman College Art Gallery in Alabama, among others.Her series How They Changed Our Lives: Senators As Working People, is in the Library of Congress online in perpetuity, and was exhibited at Mana Contemporary in New Jersey. Her art has been shown in galleries, art fairs and venue across the country, including: the Jean Albano Gallery in Chicago; the 92nd Street Y in New York; Monika Olko Gallery in Sag Harbor; Sponder Gallery; the Art Miami fair during Art Basel Miami Beach; the Palm Beach Modern and Contemporary fair; C. Parker Gallery in Greenwich; Vertu Fine Art; the Turkish Embassy at the United Nations; the U.S. Embassies in Madrid and Berlin; Art Market Hamptons; The White Room Gallery in Bridgehampton, NY; and Art Southampton fair. Her work was featured in the recent gallery show at David Benrimon Fine Art in New York, titled Rethinking America, alongside works by Warhol, Lichtenstein, Longo, Kass, and Ed Ruscha.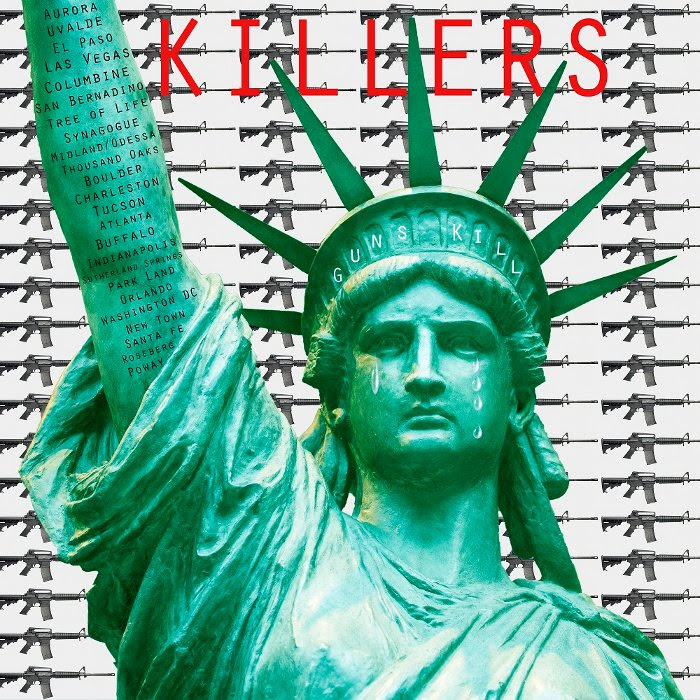 More About Giffords Giffords Opposes Dangerous Permitless Carry Legislation in Florida
Reckless Bill Would Allow Almost Anyone to Carry a Gun in PublicGiffords, the gun violence prevention organization led by former Congresswoman Gabrielle Giffords, condemned the introduction of permitless carry legislation in Florida. This legislation would allow almost anyone to carry a gun in public without a background check, any training, or having ever fired a gun. 

Read more facts about this issue at: giffords.org/wp-content/uploads/2023/01/Why-Permitless-Carry-Is-Bad-for-Florida.pdf Statement from Former Congresswoman Gabrielle Giffords about this Dangerous Legislation:"Our elected leaders should be taking steps to make us safe, not putting communities in greater danger. The data is clear that permitless carry leads to more violence, not less. The data is also clear that voters in general and Florida voters in particular overwhelmingly oppose letting untrained, unvetted people carry guns in public. Americans don't want to return to the days of the Wild Wild West where everyday disputes were settled with gun fights. Half the states in the country have now made this nightmare a reality. We must raise our voices and loudly oppose the passage of this dangerous policy in Florida," says Gabby Giffords. 

Why Permitless Carry Is Bad for Florida:Studies show that weakening public carry laws is associated with a 13–15% increase in violent crime rates, as well as an 11% increase in rates of homicides committed with handguns.One recent study found that when states weakened their concealed carry laws and removed provisions like live fire training and violent misdemeanor prohibitions—both of which Florida currently has—they experienced a 22% increase in gun assaults and a 35% increase in gun homicides. The current law ensures that people with a history of violent or risky behavior cannot carry firearms in public places. Between July 1, 2021, and June 30, 2022, 7,605 Florida residents with a disqualifying history were denied concealed carry permits. Permitless carry would strip these important provisions. The state of Florida requires 1,200 hours of training to obtain a license to cut hair, 500 hours of training to obtain a massage therapist license, and 240 hours of training to become a licensed manicurist. If Florida passes permitless carry, the state will require zero hours of training for people to carry a loaded firearm in public. 



Watch the new video. Gabby Giffords has joined forces with the artist Bonnie Lautenberg to raise funds to protect Americans against gun violence.
Photos are courtesy of the Exhibiton.