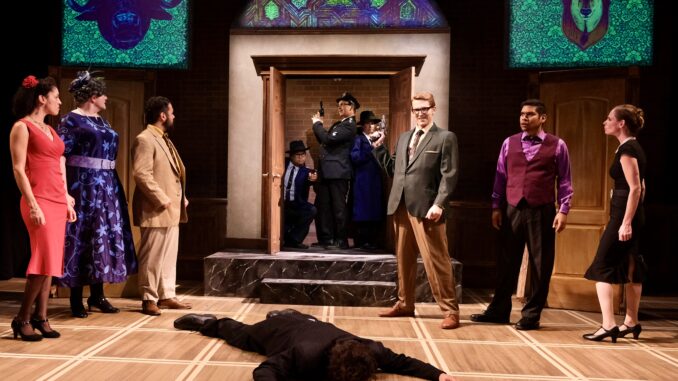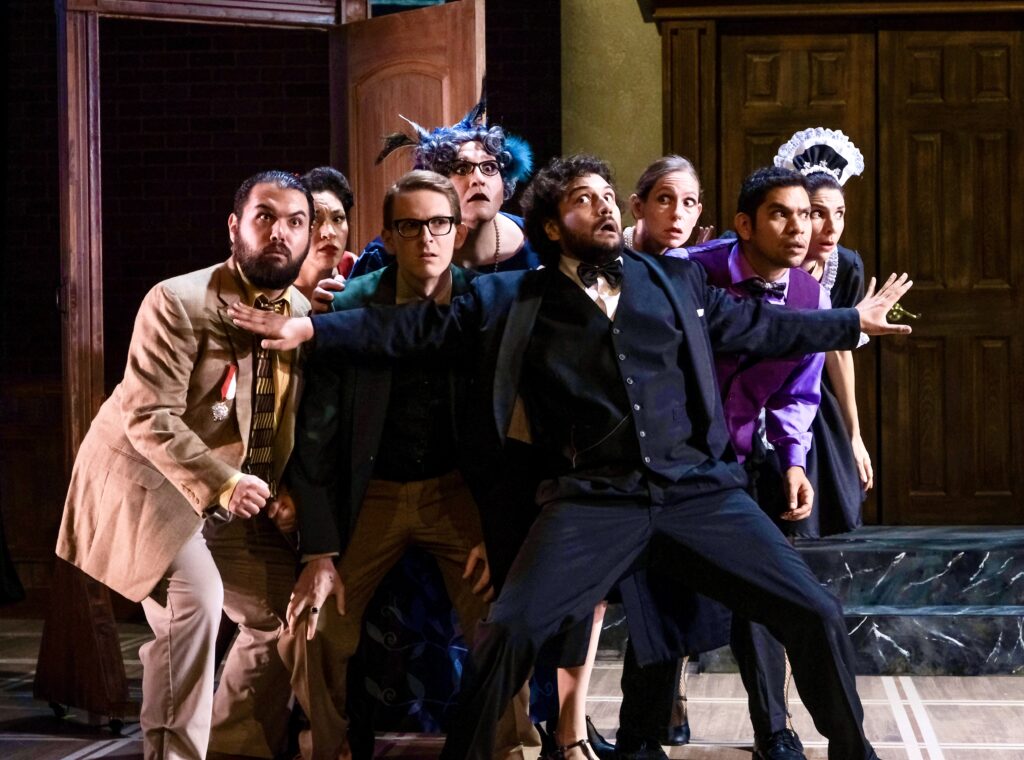 By Kathy Carpenter
Coronado Playhouse Presents, "Clue Onstage" offering screwball hilarity, wild and wacky silliness, great fun – welcome back to the theatre . Adapted from the screenplay by Jonathan Lynn, directed by Desha Crownover, here is the 1985 iconic movie coming to you, live on stage.
Everyone knows the board game Clue. It was one of my sister's and my favorite games growing up. In the eighties the game became a movie and more recently, a play. It is the big – who done it, with what, and where did they do it? And all the classic characters are there; Miss Scarlett, Professor Plum, Colonel Mustard, Mrs. Peacock, Mr. Green, and Mrs. White.

The story takes place at Boddy Manor, not far from Washington D.C., when Mr. Boddy sends dinner invitations to six strangers. Add in Wadsworth, the butler, Yvette, the maid, and cook, to handle the details, and the stage is set. Boddy asks each guest to take on a color persona, so the others won't know their true identity. Boddy is blackmailing them, and the details come out one by one. Then murders start happening and fun ensues.
Coronado playhouse did a spectacular job creating the illusion of being in a large house with all the famous Clue rooms, kitchen, lounge, study, ballroom, hall, and such. There are many doors floating around stage and the choreography was masterful.
Tim Curry played Wadsworth in the movie, a hard act to follow. Isaac Brieske, took on the role of Wadsworth for this play, and he is brilliant in his own right. Mrs Peacock, played by Tyler Richard Hewes, was an audience favorite, extremely funny. Russell Clements, played Colonel Mustard, bringing in the stupid guy element. Kira Blakovick, played Mrs. White, the so called sophisticate. Miss Scarlett, played by Heather B. Tjaima, brought the sexiness. Mr Green, played by Fred Strack, brought the nerd persona. Professor Plum, played by Marc Caro, did an excellent job. Yvette, the maid was played by Kathryn Schellinger, and the cook by Amy Dell. Cast rounded out with Ryan Burtanog, and Oliver Caro-Wilcox.
One of my favorite scenes is when they all line up to listen at the wall with glasses. Classic! The costumes are apropos for the characters, colorful and an enhancement to the show.
Come back to the theatre for some fun.
All Covid precautions in place.
Running time 90 minutes
Clue Onstage
Nov 5 – Dec12, 2021
Coronado Playhouse
1835 Strand Way, Coronado
619.435.4856
Coming Dec. 17y -19, 2021
James Bond The Musical
A whistle-stop cabaret parady
Next play
The SpiongeBob Musical
January 2022