The Chicago, Black Ensemble Theater continues it's 2019 season (Legends and Lessons) with You Can't Fake the Funk (A Journey Through Funk Music), written and directed by Daryl D. Brooks. Once you enter the mothership, there's no time to sit back and relax, because you will be grooving to the beat as you are taken on a musical journey through time. Brooks does a marvelous job incorporating a historical perspective of the funk era and how the music played a pivotal role in the civil rights movement and it's impact on the film industry.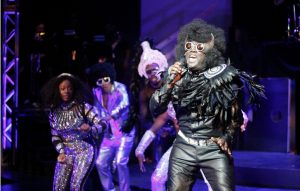 Doctor Funk (Dwight Neal) navigates the audience as the mothership travels to the time of Afro's, Flashy outfits and platform shoes. Ruben Echols nails wardrobe by recreating the looks from the 70's and 80's. The set designer, Bek Lambrecht did a great job with staging. The choreography, by Chris Carter was spot on. Together they created the illusion of being whirled into a time machine and transported inside a live taping of Soul Train. The combination had the audience out of their seats singing and dancing.
Vincent Jordan
This productions is entertaining, full of energy and great vocals! Notable mentions were the best performances that included songs by Sly and the Family Stone, Earth, Wind & Fire and the Gap Band.
Jayla Williams Craig, Michael Adkins, Thera Wright, Vincent Jordan, Dwight Neal
I highly recommend this show! If you are a fan of funk, then this one you'll definitely enjoy. You Can't Fake the funk (A Journey Through Funk Music) runs through September 22, 2019. Tickets are available at www.blackensemble.org, 773-769-4451 or at the Black Ensemble Theater Box Office located at 4450 N. Clark Street. 
Brandon Lavell
Photos by Alan Davis