One of the most anticipated concert events of the summer, Tedeschi Trucks Band: 2019 Wheels of Soul Tour featuring Tedeschi Trucks Band with Blackberry Smoke and Shovels & Rope, made its only Chicago-area stop on Sunday, July 21st at the Thomas J. Weisner RiverEdge Park (360 N. Broadway) in downtown Aurora.
Tedeschi Trucks Band
Grammy Award-winning Tedeschi Trucks Band, led by husband and wife guitarist Derek Trucks and vocalist/guitarist Susan Tedeschi, brought their rolling caravan rolls into RiverEdge Park, where fans of soul, blues, rock and country music, were treated to a unique collaborative live music event. Unrivaled in their blend of American soul, blues, rock and country, the 12-member band, has curated and cultivated this family-friendly experience into a highlight of the summer concert season. The group's ever-changing setlists highlight their evolving repertoire of more than 75 songs, including new originals such as "High and Mighty," and surprising debuts like Ray Charles' "Night Time Is the Right Time," Al Green's "Yield Not To Temptation" and Neil Young's "Rockin' in the Free World."
"The motivation and, really, the fun of Wheels of Soul is that we get to bring that spirit of musical camaraderie to a summer crowd," says Trucks. "Traveling, being outside, playing music with friends new and old. We love the limitless energy of this tour."
Celebrating in 2019 its 10th year as a group, Tedeschi Trucks Band carries a distinguished reputation earned from both audiences and critics as one of the premier live bands in the world. Led by "two of the best roots rock musicians of their generation" (NPR), TTB is recognized for their supreme musicianship and genre-defying ability to explore almost any musical territory. The group's fourth studio album, Signs, was released in February. It follows their Grammy-nominated live album/film release, Live from the Fox Oakland (2017), and their last studio release, Let Me Get By (2016). 
Blackberry Smoke
American rock band Blackberry Smoke—Charlie Starr (vocals, guitar), Paul Jackson (guitar, vocals), Richard Turner (bass, vocals), Brit Turner (drums) and Brandon Still (keyboards)—has become known for a singular sound indebted to classic rock, blues, country and folk. Since their 2004 debut, the Atlanta-based band has independently released six full-length albums and toured relentlessly, building a loyal community of fans. In 2018, they released a full-length album, Find A Light, and an accompaniment acoustic EP, The Southern Ground Sessions.
Shovels & Rope
Shovels & Rope is an award-winning husband and wife duo, Michael Trent and Cary Ann Hearst, from Charleston, SC. Their signature blend of rock, country, punk and Americana has resonated with audiences and press worldwide, leading to numerous national TV appearances and critical acclaim. (Entertainment Weekly) wrote the festival favorites have "earned a reputation as fine storytellers with a gift for vibrant character songs." Their latest release, By Blood, dropped last April, a follow-up to 2016's Little Seeds and 2017's Busted Jukebox, Vol 2.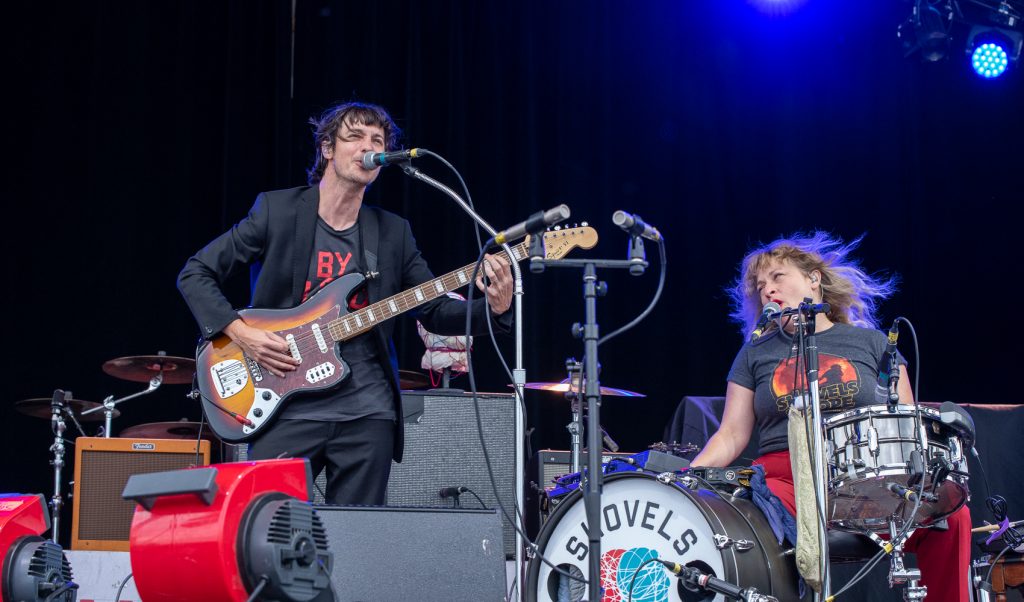 The entire concert was one amazing musical celebration involving three talented bands. I have been a huge fan of TTB ever since their debut (and a Susan Tedeschi fan even before that), but the other two groups that performed that evening, Blackberry Smoke and Shovels & Rope, were also exceptional. I had never heard of the two latter bands, but they impressed me beyond belief. My friend and I were rocking to all three all night. The bands drew in an amazing variety of people in the audience, including young to old. Each was musically gifted in their own right, and the overall musical talent was equal with vocals and instruments, with the eclectic instruments and energies that they each portrayed.
The concert opened with Shovels & Rope, which is a lovely husband and wife musical team. I love the ways their different singing voices melded together and harmonized. Their music and lyrics were raw, honest, and beautiful. The next band to perform, Blackberry Smoke, blew me away. I sat there in my seat in the audience, and kept thinking how talented this band is-why have I never heard of them?  The lead vocals of Charlie Starr added powerful strength and depth to their music. For me personally, Blackberry Smoke provided a brand new definition of American music with accents of rock, country, bluegrass, blues, and folk music. Next step for me is to figure out where to purchase their albums…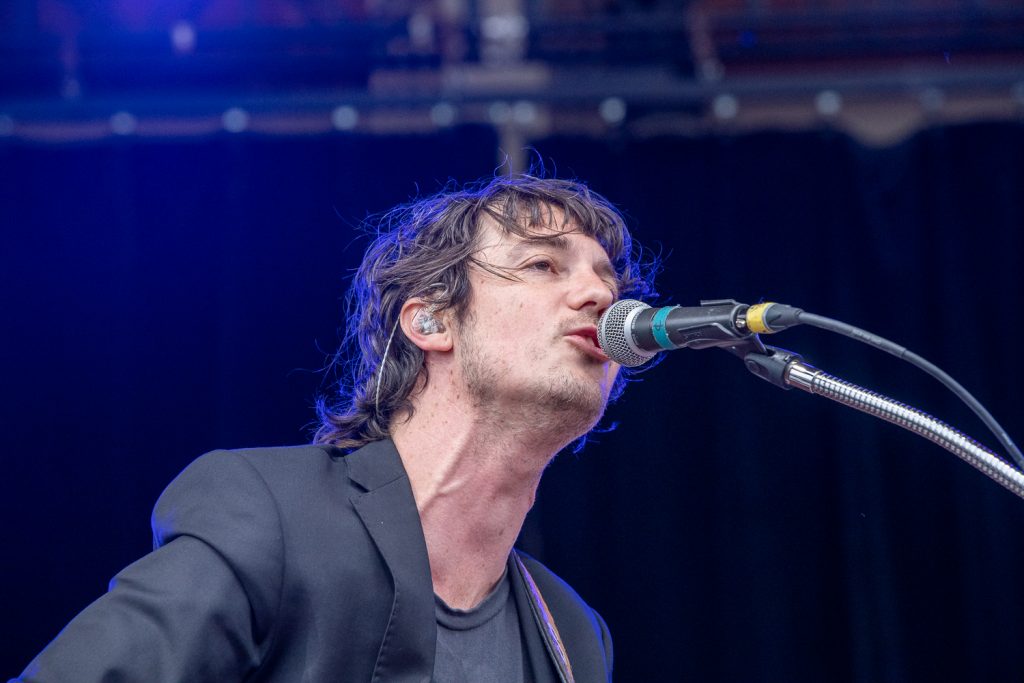 As for the finale, the ultimate treat of the concert, was of course, one of my all time favorites, the Susan Tedeschi Trucks Band. I loved Susan's music even before she met Derek Trucks, and created the amazing twelve-performer musical phenomena that they are ten years and four studio albums later. This evening concert was even more special, considering the fact that it was the fifteenth anniversary of when the power music couple first met. It was also deeply sad to not see their longtime friend and bandmate, keyboardist, Kofi Burbridge, who passed away earlier this year at age 57 from a heart attack. The stage felt empty without his presence.
Susan and Derek Trucks and their amazing band performed several favorites from all for of their albums including songs from their 2013 album Made Up Mind, "Do I Look Worried" and "Made Up Mind." Also on the musical list were hits "Hard Case," "It's So Heavy," and an outstanding cover of Dr. John's "I Walk On Gilded Splinters," a tribute to the New Orleans Musician and Singer, who recently passed away, and was a huge musical mentor for Susan Tedeschi. They also played songs from their latest album, Signs, which included "Shame," "Don't Know What It Means," a cover of Charles Segar's "Key To The Highway," and the soulful and jubilant "Bound For Glory." They closed the show with "Sings, High Times," a cover of Sly and the Family Stone's "Sing A Simple Song," and one of my favorites of theirs, "I Want To Take You Higher."
Susan Tedeschi is a special kind of performer, who puts soul and emotion into her leading singing vocals. You just cannot help but dance and sing along! Paired with Derek Truck's talented and out of this world guitar playing, and the rest of the band's amazing back up, you can see why the Trucks Band has endured for a decade, and is still going strong. The band continuously explores the roots of various forms of music and traditions, but then weaves them into their own new and modern sound for their fans.
2019 is the fourth year for the Tedeschi Trucks Band Wheels of Soul Tour, which continues to be a major success. The tour allows fans all over the country to be introduced to musical celebrations of soul, blues, rock n roll, and country. It was a concert not to be missed.
Photos: Thomas J. King
For future shows and tickets and information, visit RiverEdgeAurora.com, call (630) 896-6666, or stop by RiverEdge's satellite box office, Paramount Theatre, 23 E. Galena Blvd., Aurora, 10 a.m. to 6p.m., Monday–Saturday.
For more information on the bands that performed at the concert, please visit the websites for Blackberry Smoke, Tedeschi Trucks Band, and Shovels and Rope.