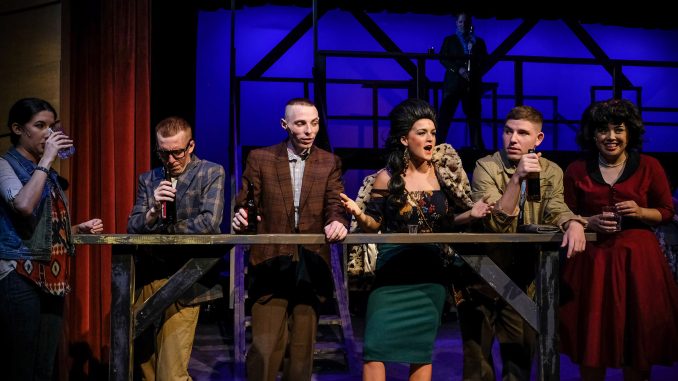 By Kathy Carpenter
Coronado Playhouse Presents Dogfight the Musical. Directed by Teri Brown. Funny, heartfelt and Romantic. Not my typical choice but everyone should pushed themselves out of their lane every now and then, that's how we grow. And like the show where people surprise you – so do plays.
I often wonder why a certain play is chosen. When I see that Coronado Playhouse's 73rd season is: Adventure- Journey – Discovery – I see perfectly how this show fit the bill.
Dogfight is the story of Eddie Birdlace and his two buddies in San Francisco the last night before they are deployed as Marines headed to VietNam in 1963. All set for a wild night they must first adhere to the proud Marine Dogfight tradition. A high stakes contest to see who brings the ugliest date, unbeknownst to the woman.
Eddie invites Rose a waitress at a diner. He seams sincere. I would have believed him. Before they go into the party where the Dogfight takes place, he regrets his choice and tries to talk her out of going in. But Rose won't have it.
After she regrettably finds out about the contest and flees. Eddie feels compelled to go apologize, and they spend the rest of the night together. But then he leaves. How will everything turn out?
Eddie Birdlace is played by Adam Sussman, a tremendous job of showing a range of emotions. Sara Au Sing, played Rose and I feel the strongest portrayal in the show. Danica Waitley , rocked Marcy, the ringer in the Dogfight. Berstein and Boland, played By Kyler Waitley and Connor Boyd. lit the stage as Eddie's Jarhead Buddies. The cast comes together to show us the idealism of boys headed to war and harsh realism of its outcome.
The shows starts with a beautiful guitar ballad played by Rose from the award-winning team of BenJ Pasek & Justin Paul, who also gave us the scores of La-La-Land, The Greatest Showman and the Broadway hit Dear Evan Hanson. The Dogfight band plays this score flawlessly.
During the run of Dogfight, Coronado Playhouse is raising money and awareness to benefit Veteran's Village of San Diego.
Veterans Village of San Diego (VVSD) serves America's veterans in overcoming homelessness and related challenges. VVSD has served all veterans since 1981 and is dedicated to "Leave No One Behind." VVSD is the only program of its kind in the United States and is nationally recognized as the leader in serving homeless military veterans. Each year VVSD
provides services to more than 2,000 military veterans throughout San Diego County.
For more information, visit vvsd.net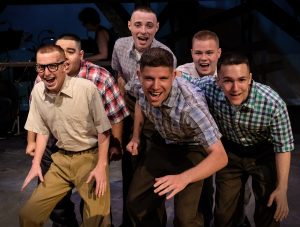 Dogfight the Musical
July 26 – August 25 , 2019