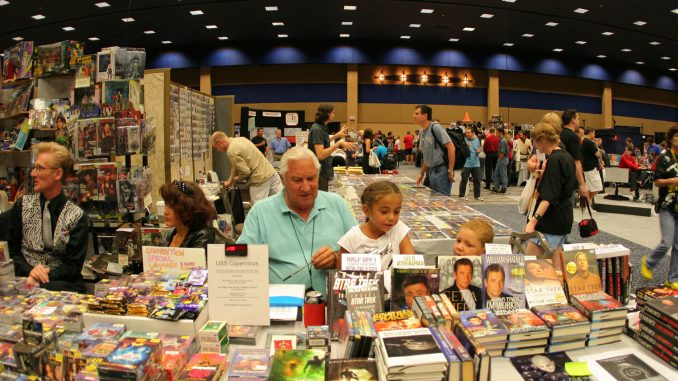 Star Trek fans from around the world will be beamed to Las Vegas on July 31 – August 4 for the galaxy's largest annual OfficialStar Trek Convention. Organizers anticipate that over 15,000 attendees will convene at this decade-long Las Vegas tradition at The Rio Suites Hotel.
This Official Star Trek Convention will be highlighted by special presentations including:
In-person stage appearances by four Star Trek Captains — William Shatner(classic Star Trek's Captain Kirk, Saturday only); Anson Mount (Star Trek: Discovery's Captain Christopher Pike, Friday only); Jason Isaacs (Star Trek: Discovery's Captain Gabriel Lorca, Friday only) and Kate Mulgrew (Star Trek: Voyager's Captain Janeway, Saturday only).
Special panels, presentations and celebrity guests from the hit Star Trektelevision series Star Trek: Discovery cast membersincluding Sonequa Martin-Green (Michael Burnham, Sunday only), Doug Jones (Saru, Sunday only),Mary Wiseman (Sylvia Tilly, Sunday only), Ethan Peck (Spock, on Friday only);James Frain (Sarek, Friday only); and many more.
Unique science panels with leading industry experts will focus on Gene Roddenberry's vision to have the Star Trek audience consider important ideas and issues including diversity, humanity, philosophy, science and the role of technology. Plus, NASA astronaut Kate Rubins brings a special presentation of Star Trek and NASA, 50 years of inventing the future together. This will examine the variety of concepts developed for Star Trek, both human and alien, with particular emphasis on their scientific and technological plausibility, even in the 24th century.
Co-creator and executive producer Mike McMahan gives a peak look at the upcoming animated comedy series Star Trek: Lower Decks coming to CBS All Access.
Other top starfleet-worthy celebrities set to appear include: classic Star Trek's Walter Koenig (Chekov, Friday); Nichelle Nichols (Uhura, Wednesday – Friday); Michael Dorn (Worf inStar Trek: The Next Generation, Friday-Saturday); Brent Spiner (Data from Star Trek: The Next Generation, Wednesday and Saturday); Armin Shimerman(Quark of Deep Space Nine, appearing Sunday); Nana Visitor (Major Kira Depp Space Nine, Friday only); Roxann Dawson (B'Elanna Torres from Star Trek: Voyager, Sunday only); Connor Trinneer (Charles Tucker from Enterprise, Wednesday only); and many more.
In addition to celebrities, the non-stop theatrical show will include behind-the-scenes presentations, costume and trivia contests, no-minimum bid auctions of unique collectibles and one-of-a-kind items, and special fan-made music videos.
Along with nighttime Star Trek themed parties, the Star Trek Saturday Evening Gala Celebration will return, starring Star Trek: The Next Generation's Brent Spiner and his live band, performing a selection of unforgettable songs. This concert will take place Saturday, August 3 at 9:30 p.m. (a separate ticket of $60 is required for general admission).
Want to get married in Las Vegas, Star Trek style? Now you can say "I do" on the Original Series Bridge or The Next Generation's 10 Forward replicas. Wedding packages start at $1000 (include ceremony and photo session at location) and can accommodate up to 50 guests.
For cosplayers, Saturday is the day! The Costume Competition with celebrity judges, special on-stage costume panels, the annual Costume Parade throughout the convention, and a number of cosplayer meet ups are all scheduled. Garak's Tailor and Repair will be returning to handle any emergency costume repairs for free throughout the weekend.
Attendees can walk down the "Creation Promenade" and pose for photos in front of maximum-sized photo ops backdrops including The Original Series Transporter Pad, The Bog Regeneration Chambers, and the Agonizer Booth from Star Trek: Discovery (small fee inside the photo booth).
Located just off the Promenade, the Jean-Luc Picard: The First Duty exhibition will showcase original props, costumes and other artifacts tracing Picard's life and Starfleet career. Items on display include his cherished Ressikan flute, the legendary Picard family album, his Starfleet uniforms, models of the ships Picard captained and all that remains of the "Borg Queen." The gallery will also feature exclusive first looks at costumes and other items featured in Star Trek: Picard.
Attendees will want to take a tour through the Roddenberry archive, in VR Nexus, courtesy of Sansar, as well as attend virtual meet and greets with Star Trek celebrities during the convention in the Tropical Room.
Want to shop, the exhibit hall will boast companies and distributors selling and displaying Star Trek and sci-fi collectibles from across the nebula.
General admission tickets are available in advance (www.creationent.com) or at the door and range from $60 -$75 for a single day. Show hours are Wednesday and Thursday, 10:30 a.m. – 7:00 p.m., Friday, 10:00 a.m. – 7:00 p.m., Saturday, 8:30 a.m. – 7:00 p.m. and Sunday, 10:00 a.m. – 6:00 p.m. (times are tentative).
For further information, call Creation Entertainment, 818/409-0960, or visit our website at www.creationent.com.
Become a part of the community, and follow the convention online –
Facebook: https://www.facebook.com/CreationEntertainment
Instagram: @Creationent
Twitter: @CreationEnt