One of the final lyrics in LOST: THE MUSICAL says it all. The plot line meanders – in perfect sync with a TV show which aired in the early 2000's – and went on and on without much of a goal in mind. In a mishmash of bits which highlight intermittent episodes, characters, and events in the popular series, LOST: THE MUSICAL celebrates the fifteenth anniversary of its birth. Clearly planned for the still-avid fan base, LOST: THE MUSICAL achieves its goal: an entertaining trip down memory lane with some dance, music, and clever lyrics casually tossed in.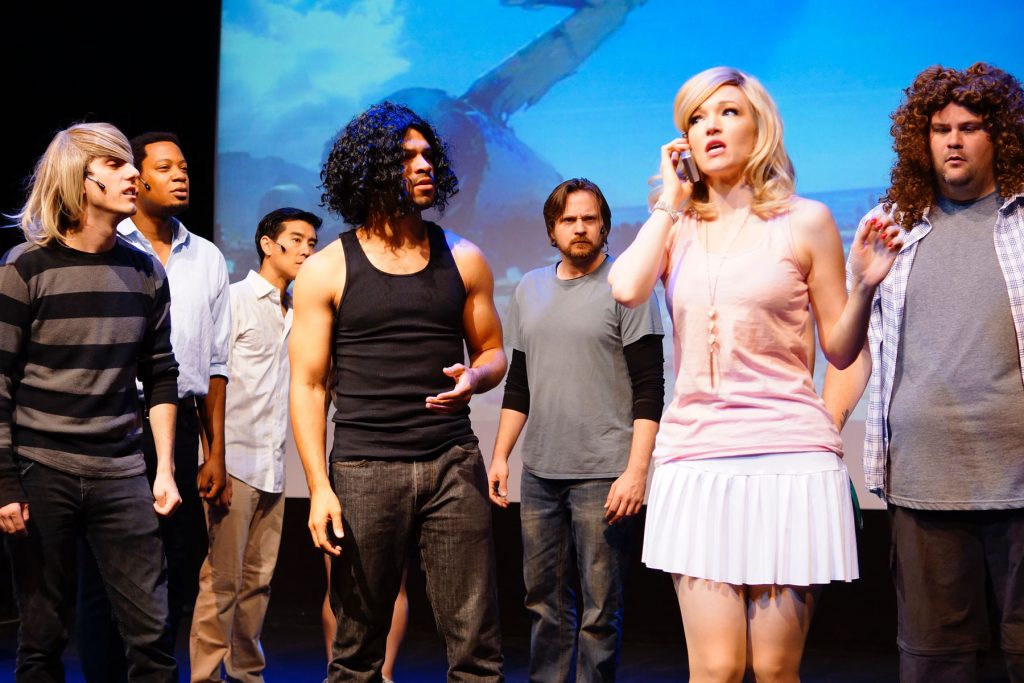 A large and enthusiastic cast welcomes theater-goers, including – among 14 who wear many hats – Matthew Ingraham (Jack/Mindowski/Christian Shepard), Jasper Sams (Kate/Bear/Alex/Freighter Doctor), and Kacey Spivey (Claire/Libby/Charlotte/ Reporter/Eloise). It's almost worth the price of admission just to see such a large crowd inhabit the tiny Whitefire stage. Director Steven Brandon has his hands full orchestrating this motley crew, luckily with the able assistance of vocal director Amanda Thomas and choreographer Carli Lind. Voices may vary in intensity or pitch, but all the actors give it their best shot.
With book and lyrics by Steven Christopher Parker and Steven Brandon, LOST, THE MUSICAL is no more nor less than a tribute to a moment in TV history which enchanted viewers – and encouraged the kind of loyalty that only true fans can give. Originally produced in 2014, LOST: THE MUSICAL continues to draw audiences who fondly recall an old TV favorite. The musical parody will tweak the audience's recollections, especially after the pop quiz just before the show begins. A canine friend even puts his nose right into the middle of the quirky goings-on.
The one overriding adjective which seems to sum up LOST: THE MUSICAL is "cute." This comic reconstruction is not a profound study of humanity – and at times seems kind of childish – but it is what it is: something for loyal fans to sink their teeth into. If you have been mourning the loss of "Lost," here's your chance to fire up your synapses and re-live some of your favorite moments in the television series. The crowded theater audience clearly remembered the show and loved the comic reminiscences it made as fresh as if it were – not 15 years ago – but right now. Fond memories will do that every time!
LOST: THE MUSICAL runs through 9/23/19, with performances at 8 p.m. on Mondays (special anniversary show at 7 p.m. on Sunday, 9/22/19). The Whitefire Theatre is located at 13500 Ventura Blvd., Sherman Oaks, CA 91423. Tickets range from $25 to $35. For information or reservations, go online.