Have you ever wondered what it was like to dine and drink in a different era? I had the opportunity to do so with those passengers that dined and drank aboard the ill-fated Titanic with newly- invented style recipes and classic cocktails.

The tragic sinking of the Titanic has captivated people and garnered the fascination of generations since its fateful sinking on April 15, 1912. Countless stories of that night's horror have been told and retold through several films and books , but expert food writer Veronica Hinke's book looks at aspects of the tragedy that have never before been told.
The glitz and glamour of First Class dining was showcased at this reception held at The Gage at 24 S. Michigan Ave., Chicago, IL 60603 and in the book , THE LAST NIGHT ON THE TITANIC: UNSINKABLE DRINKING, DINING, & STYLE (Regnery History, April 2, 2019) by Veronica Hinke.

This is not just a book about food and dining. It seamlessly weaves true, first-hand stories from passengers that may be familiar along with stories that have never been heard before. Did you know some of these passengers had Chicago ties?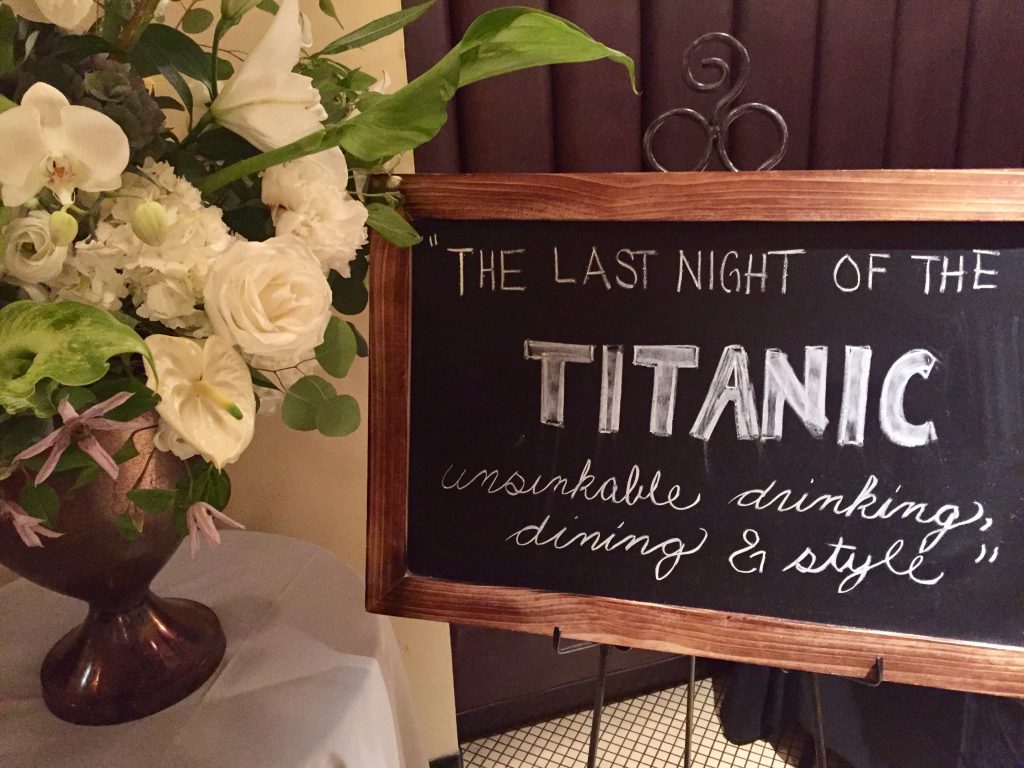 During the reception and panel discussion I was intrigued and interested in how this piece of history was woven into our city while trying some of the scrumptious looking dishes such as scotch eggs, and cocktails featured in the book by local chefs and The Cocktail Guru !

There were bites of scotch eggs, chicken cream puffs, duck, and peach melba to try. Featured cocktails were Bloody Mary's, The Marguerite, and Roman Punch.

Why were these foods and beverages included? It was during a panel discussion that we heard about the stories, menus and chefs that inspired these recipes to be included. Whether staying true to the time period, or paying an ode to a Titanic passenger's favorite cocktail such as hotelier John Jacob Astor IV, everything in this book is true to the story of the Titanic.

Featured in the panel were :
Astra Burka, Toronto Filmmaker – Astra's grandfather, Paul Danby, wrote the first letter from the Titanic. He stepped off of the Titanic in Southampton, England after seeing off his wife's uncle. In the 1940s, Danby was killed in Sobibor, a Nazi concentration camp. Astra's uncle, Adolphe Saalfeld, survived the Titanic but never overcame the experience & public scorn for being a man who survived the disaster. He wrote a letter home to his wife describing the magnificent decadence of his first meal aboard the Titanic.
Christopher Gawronski, Executive Chef, Gage Hospitality Group – contributed his recipe to the book for Scotch Eggs.
Greg Mosko, Executive Pastry Chef, Gage Hospitality Group
Michael Lachowicz Executive Chef (George Trois; Aboyer; and Silencieux, Winnetka, IL)
Jeffrey Pogash, The Cocktail Guru, is an expert on Edwardian-era cocktails. Jeffrey was Director of Communications with Moet Hennessy USA for many years until his retirement.

Not only is THE LAST NIGHT ON THE TITANIC: UNSINKABLE DRINKING, DINING, & STYLE an interesting dive into the past and stories of what the passengers remember from this tragic passage but it is also a chance to easily make and try those foods and cocktails that were a part of this infamous piece of history. It is an aspect that I have not seen in other books about the Titanic. I enjoyed the book and recommend it to anyone who has interest in this piece of history or would like to cook new or a different take of food from the past. The recipes embody the style and glamour that was the Titanic.

About The Author:
Veronica Hinke has been researching the Titanic for as long as she can remember. She has interviewed hundreds of experts on lifestyles, foods, and drinks for Tribune Media and maintains close working relationships with leading chefs and mixologists around the world. Her report, "Titanic Cocktails," appeared in Wine Enthusiast magazine, honoring the hundredth anniversary of the Titanic, and was blogged by the Village Voice. Ms. Hinke currently resides just outside of Chicago, Illinois.
Cocktail Sponsors of the event :
Jeffrey Pogash,
The Cocktail
Guru
@TheCocktailGuru
Rogue Society
Distilling,
Scapegrace Gin
@ScapegraceGin
Knappogue Castle Irish
Whiskey
@KnappogueWhiskey – (Instagram;@Knappwhiskey on Twitter)
Van Gogh Vodka
@VanGoghVodka