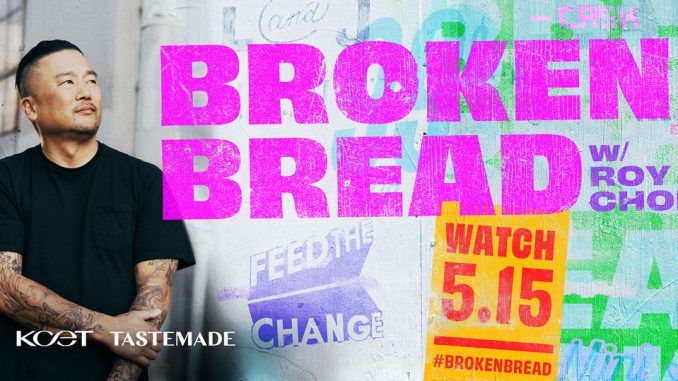 Lady Beverly Cohn
In a rip-roaring, fun event, KCET, in association with Tastemade and Live Nation, hosted a screening of "Broken Bread" at the historic Wiltern art deco theatre as part of the Los Angeles Times "Food Bowl" dining events. Designed to bring together community organizations and individuals for an interactive exploration of the power of food, young people lined up around the block for a pre-screening reception, which included a variety of snacks and delicious homemade ice cream, all of which were provided by Kogi BBQ, Mariscos Jalisco and GD Bro Burger, participants in the Food Bowl.
Roy Choi, executive producer and host of this socially conscious show, was named Food & Wine's Best New Chef 2010, and is listed as one of TIME's 100 Most Influential People in the World 2016, as well as LA Times Restaurant of the Year 2017. He is also author of L.A. Son: My Life, My City, My Food, an award-winning New York Times Best Seller. The first to use Twitter, he ushered in a whole new generation of eaters and followers in what is now known as America's first viral restaurant.
The fascinating "Broken Bread" took us into the kitchen of Mar Diego's "Dough Girl," Bill Bracken's "Bracken's Kitchen," Ron Finley's "Gangsta Gardener," and Homeboy Industries, one of the first inner city youth programs founded in 1992 by Father Greg Boyle.  With the exception of Homeboy Industries, each these organizations was started by high-risk, former gang members who were incarcerated for any number of violent crimes.  Their goal was to give troubled men and women a chance to not only learn a skill that would afford them the opportunity to earn a living, but to also contribute to providing healthy low fat, low sugar, low calorie foods to their Los Angeles neighborhoods, many of which are filled only with unhealthy fast-food restaurants.  Choi takes you inside these kitchens where the young chefs demonstrate their cooking skills, turning out deliciously prepared food artistically presented in the same manner as a four-star restaurant.  Besides the various kitchens, Choi takes you to some of the spectacular gardens created by former troubled youngsters who are now employed by "Gangsta Gardener."  Their designs and creative skills are spectacular and one can see the pride they have in their accomplishments.  Following the screening, there was a lively discussion by some of the young entrepeneurs featured in the film with the emphasis on the need for funding to expand their restaurants so they can increase their abilities to feed their neighborhoods, a goal that was met with thunderous applause.
Although "Broken Bread" aired earlier this week on PBS channel KCET and on Tastemade TV, it is now available on major streaming platforms. The rest of the series will air May 20 on PBS SoCal at 7:30 p.m. and May 21 on Link TV via DirecTV (channel 375) / Dish Network (channel 9410) at 9:30 pm ET/PT. Episodes will also be available on brokenbread.tv as well as the free PBS App.

In a recent feature on KCET's "Broken Bread" television program, Carlos Salgado, Executive Chef/Owner of Taco Maria, was inadvertently listed as one of the participants in that program. Pease note that he did not participate in that program and we sincerely apologize for that error.