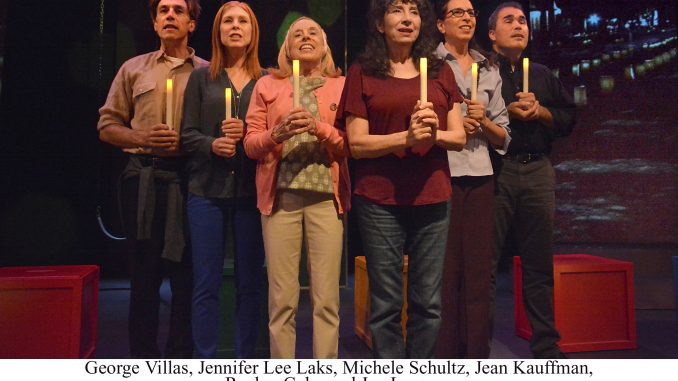 Ripped from shocking 2012 headlines, 26 PEBBLES tells the story of America's bloodiest massacre of young school children through the eyes, words, and memories of people who were there at the time. Playwright Eric Ulloa turned interviews of Newtown residents who were forced to deal with the painful and emotional aftermath of the school shooting into a powerful and thought-provoking script.
It is December 14, 2012 in Newtown, Connecticut – just weeks before Christmas in a small town anticipating the holiday season. They love their close-knit community and enjoy participating in the timeless rituals that precede a festive time of year. And then the unthinkable happens, an event which will change their lives forever. A troubled teen enters the local Sandy Hook Elementary School and begins to randomly shoot at everyone in his path. The death toll mounts as 20 children and six school staff are fatally shot. The rampage finally ends when the shooter commits suicide.
In painstaking detail, author Ulloa gradually escalates the horror of the scene, from peaceful small town activities to escalating chaos as people begin to grasp what has occurred. 26 PEBBLES is the tale of humanity at its worst – and perhaps at its best as well – as real people start to digest the awful, unthinkable events of that day and come to terms with the inevitable aftereffects of such a tragedy.
Six actors make Newtown come alive as they shift characters to include the many Newtown residents who shared their stories. Kudos to Jennifer Lee Laks, Joe Lorenzo, George Villas, Jean Kauffman, Michele Schultz, and Roslyn Cohn, who skillfully take on multiple roles as the narrative unfolds. 26 PEBBLES is about feelings, and the actors artfully blend fact and feeling to portray a moment in America's history which should not be repeated. Director Jules Aaron does a splendid and highly professional job of guiding these characters to their final destination.
Jeff G. Rack's set is simple and lends minimal distraction to a story which has its own powerful impact. Brandon Baruch's lighting, Joseph Slawinski's sound, and Michele Young's costumes are also low key – again emphasizing the emotional moments happening on stage. The program offers special thanks to Chad Wyckoff and The Human Race Theatre Company "for generously allowing us to use their graphic for 26 PEBBLES."
26 PEBBLES is a play which should be mandatory of just about anyone, including school children and adults. This is especially true due to the unbiased authentically human accounts of an unexpected tragedy. But while the play could ultimately have emphasized revenge and retribution. It instead ends on just the right positive note. To quote Newtown's local rabbi, "Newtown doesn't want to be remembered as the town of tragedy…we want to be remembered as a bridge to a new and kinder world…it's not about the suburbs or the urban areas…it's about the red blood that flows out of all of our veins…it's about the clear tears that flow out of our eyes…we are all the same…"
26 PEBBLES runs through October 14, 2018, with performances at 8 p.m. on Monday, Thursday, Friday, and Saturdays and at 2 p.m. on Sunday. Theatre 40 is located in the Reuben Cordova Theatre, 241 S. Moreno Drive, Beverly Hills, CA 90212. Tickets are $35. For information and reservations, call 310-364-0535 or go online.