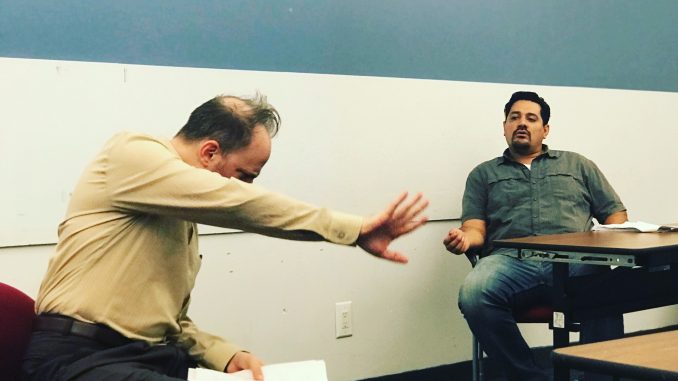 Watch out, New York, here comes David, Filmmaker David Tolchinsky, that is. From Northwestern University to the New York International Fringe Festival (FringeNYC), comes Tolchinsky's second play, An Attempt to Heal in the Contemporary World, a dark screwball comedy that explores the intersection of genius and madness. It also challenges what constitutes legitimate illness in our society.
Readers of Splash Magazines Worldwide who are in New York can take advantage of a very special offer.  FREE tickets will be available for the Oct 16 show, while they last.  Just email the fringe email 18*****@fr*******.org and mention SPLASH. You will receive a   confirmation.
Once the largest multi-arts festival in North America, this year FringeNYC will present approximately 200 national and international theater and performance companies from around the world in venues across New York City in October.
Although Tolchinsky has limited experience in theater, he has received acclaim for "An Attempt to Heal in the Contemporary World," as well as his first foray into theater, "Where's the Rest of Me?" which premiered in 2015 at the Hudson Guild Theatre in Manhattan.
Inspired by the manic anxiety of Tolchinsky's prominent psychiatrist father Marshall Edelson and monologist Spalding Gray, "Where's the Rest of Me", he weaves together themes of mental illness, monologues and movies.
Tolchinsky seems to have struck a nerve with his theatrical interrogation of what's real and what's not in the realm of health.
"Where's the Rest of Me," was nominated for best play, with Tolchinsky being voted best director, for its New York production. The play was produced again recently in Chicago at A Red Orchid Theatre as part of their Incubator Series and featured in The Road Theatre's Summer Playwrights Festival in Hollywood.
"Whether I'm writing a screenplay, directing a play, producing a film or curating a gallery show, I'm always asking 'What's the best and most appropriate form my work can take?,' which is essentially the philosophy of the MFA program I founded," said Tolchinsky, co-director of the School of Communication's MFA in Writing for Screen and Stage Program at the School of Communication, which combines the best of an MFA in screenwriting and an MFA in playwriting.
Indeed, MFA students have gone on to be successes in the worlds of TV, screenwriting and playwriting, and often in more than one realm. One example is Sarah Gubbins, whose plays were being produced widely in Chicago while she was at work on Amazon's "I Love Dick." Gubbins will soon see her adaption of the psychological thriller "Shirley" on the big screen.
"I love how movies can immerse you in a dream-like world, but I love the unpredictability and immediacy of live theater. I'm an 'expert' screenwriter/filmmaker but am a kid when it comes to theater. It's all just new and intriguing," Tolchinsky said. "I can't wait to see the story come to life on stage."
And Tolchinsky goes on to say "I've been fascinated more and more by illnesses that are somewhere between the physical and psychological, that are not easily explainable, illnesses that unfortunately may define the contemporary world. In that terrain, for years, I've been wanting to write something about Wilhelm Reich, who believed there was something inherently wrong with our bodies, who was in Freud's inner circle until Reich rejected the talking cure in favor of direct body work. Some say Reich went psychotic (with his theories about "orgone" energy and orgone accumulators and machines that could make rain!), others say we still value much of what Reich proposed (free birth control, preventative medicine, massage therapy, the therapeutic value of sex), although we don't connect any of it to Reich. Some might wonder how could such a man exist and will enjoy his extreme personality.
Others will ponder: How do we know when to accept or reject radical new theories? Reich saw himself in the same terrain as other innovators as Freud and Einstein.  And should Wilhelm Reich's theories be disregarded because of his supposed mental illness and his abusiveness? Or should we separate the personal life of the scientist from his work? This is a question which is more relevant than ever given recent and ongoing revelations about previously well-respected artists who have been accused of sexually abusive behaviors. As the work turned out, it's also deeply personal – I incorporate my own family history (my father was an extreme character in some ways like Reich) and love of 1950s movies, as I explore Reich's life and work and 1940s/50s conceptions of the brain, the world, wellness, and science. And ultimately the cosmos.  Enjoy!  " — David E. Tolchinsky
An Institutional Quality Productions Presentation in association with Beware of Sharks Productions
An Attempt to Heal in the Contemporary World
David E. Tolchinsky, Writer/Director
Jessy Lynn, Producer
Dan Silverstein, Visual Designer
Starring (in order of appearance)
Riley Austin Scott as Dave
Paul Weissman as Dave's father, Reich's patient, Otto Rank, and Reich's disciple
Sergio Fuenzalida as Cashier, Sigmund Freud, Jane's doctor, and Albert Einstein
Andrea Peterson as Jane, Dave's doctor, and others
Paul Obedzinski as Dave's manager and Wilhelm Reich
CREW
James Dean Palmer, Assistant Director
Emily Sheehan, Lighting Designer
Erika Degraffinreaidt, Costume Designer
Kelley Sener, Stage Manager
Ken Pagni, Poster/cards/program Design
Joe Vanderstappen, Lead Carpenter
Dillon Roberts, Carpenter
New York- How can you resist?
An Attempt to Heal in the Contemporary World" will be performed on Tuesday, Oct. 16, at 4:15 p.m., Thursday, Oct. 18, at 9:15 p.m., Thursday, Oct. 25, at 9:15 p.m., Saturday, Oct. 27, at 2 p.m. and Sunday, Oct. 28, at noon. For tickets, visit Fringenyc.org.
Photo are courtesy of David Tolchinsky unless otherwise noted.