The Culver City Village has become a hot bed for excellent restaurants and the recently opened Ramen Bangaichi is unique and well worth checking out. Featuring a nice comfortable outdoor patio and a roomy interior that features multiple TV screens, this is a great place to watch a game while you experience and explore a large menu and a full cocktail bar.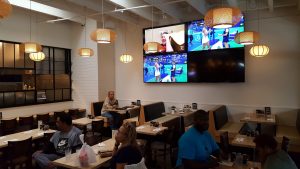 Enjoy a terrific Happy Hour as well.  Although they specialize in Asian cuisine they have expanded their appetizer menu to include dishes that compliment your favorite drinks.
Sample Garlic Fries, Buffalo Chicken Wings, Butter fried Corn or Asparagus, Fish & Chips, and Fried Chicken. Mix those with Asian favorites such as Gyoza, Mabo Tofu, Popcorn Shrimp, Edamame, Cold Char Siu, and Tuna Carpaccio. There are 16 appetizers to choose from.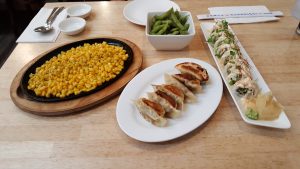 We enjoyed sampling several of them along with one of the 11 superb Sake that they offer. Ask for the one that the Prime Minister of Japan gave to President Obama as a present, very smooth and lovely.
They also offer four sushi rolls which go great with Sake, beer or a mixed drink. We enjoyed sharing 3 of the cut rolls, Popcorn Shrimp Roll, Spicy Tuna, and a California Roll.
They offer several Bento Boxes and 12 entrees ranging from Tuna Steak, Teriyaki Chicken in a fried rice bowl, Char Siu in a curry rice bowl, Garlic Shrimp, Grilled Mackarel, Sauteed Chicken and many others.
They are famous for their superb Asahikawa Ramen. This style originates from the Northern most part of Japan and is known as the Gourmet Kingdom. Their original style ramen consist of 3 different broths and made to perfection. All are very healthy and use natural ingredients. The most popular is the Miso broth, very hearty broth base that is stirred in its cooking pot for several hours.
A second option is a Soy Sauce broth which is well seasoned and left to simmer for several hour. Last but not least is a Salt base broth is their seasoned seafood base. All broth is pork base unless you are a vegetarian or vegan. I was told their Vegan Miso is very popular with diners. With all broth you get crimped noodles. This special Bangaichi broth recipe has been passed down in the family for well over 50 years. There are many toppings to choose from to add to whichever broth you select. So if you are a foodie Like I am, swing on over to Culver City's Ramen Bangaichi with friends or family and enjoy a wonderful and unique dining experience at a great price.
Photos by: Matthew Oxman