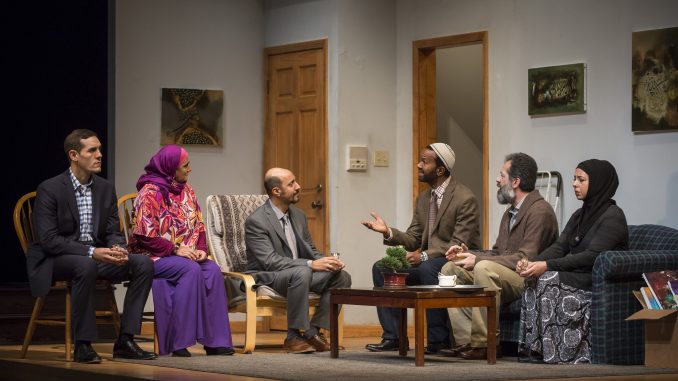 "Yasmina's Necklace", currently in performance at The Goodman Theatre (The Owen), 170 N. Dearborn, Chicago, through November 19th, and directed by Ann Filmer, was written by Chicago Playwright Rohina Malik. The cast includes Susaan Jamshidi, Michael Perez, Laura Crotte, Allen Gilmore, Martin Hanna, Amro Salama, Ron Barkhordar and Frank Sawa; the creative team includes Costume Designer Rachel M.Sypniewski, Set Designer Joe Schermoly, Lighting Designer Cat Wilson and Sound Designer Barry Bennett. This is a timely, comical and enjoyable story of respectful love between two people from very different Muslim families, and emerging acceptance and understanding between their parents.
Abdul Samee Marcario Lopez Hassan, the financial analyst son of a Puerto Rican mother and Iraqi father has alarmed his parents and their circle of Muslim friends (mom has accepted Allah) by 2 radical acts: getting divorced and Americanizing his name to Sam. He is seeing a therapist and taking 4 different psychotropic meds, although he doesn't seem anxious or depressed so much as confused and frightened of life. Black Imam Rafi recommends Yasmina, the artist/volunteer/black Hijab-wearing daughter of unemployed dentist Musa, as a possible bride. Sam's folks feel snobbishly above the 2 refugees, but urge their son to meet Yasmina as he is tainted by divorce and thus no catch himself!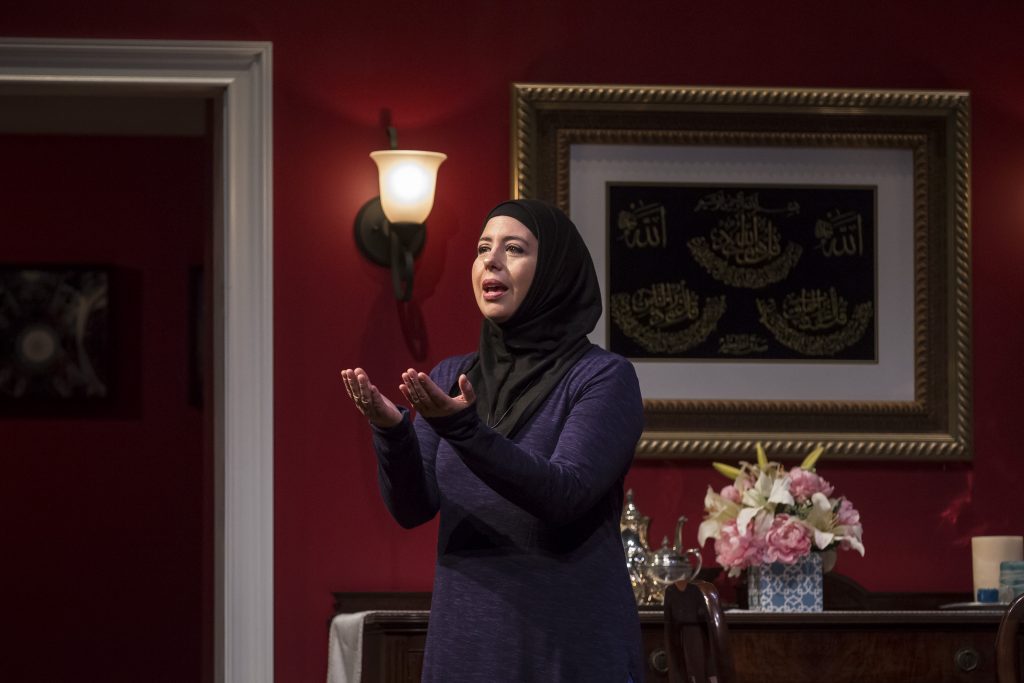 While much of the interaction resembles a clever French romantic farce- fathers, mother and Imam darting in and out of rooms leaving the 2 younger people "unchaperoned"- there are unfortunately just as many awkward moments where all these characters are crowded about on the stage. Still, the audience is very much engaged as Sam and Yasmina's romance in fact advances through well-developed interactions, and his family develops tolerance for hers.
She is the more interesting personality of the pair, and, as she repeatedly asserts, has suffered the horrors of war and loss of a homeland; yet, despite his purported psychological problems, he is the more stable and able to commit. She wears a necklace in the shape of Iraq, stamped with that country's name, and paints sad reminders of atrocity and her mother's death. As their relationship deepens, they learn to laugh and share.
He works with her to fund and assemble a not-for-profit Iraqi education/help center and gains her trust as their friendship awakens mutual love. The story takes place in Chicago, and some of the most interesting moments are those wherein he offers to take her to see the Art Institute and the Picasso at the Daley Plaza, and they bond over these adventures.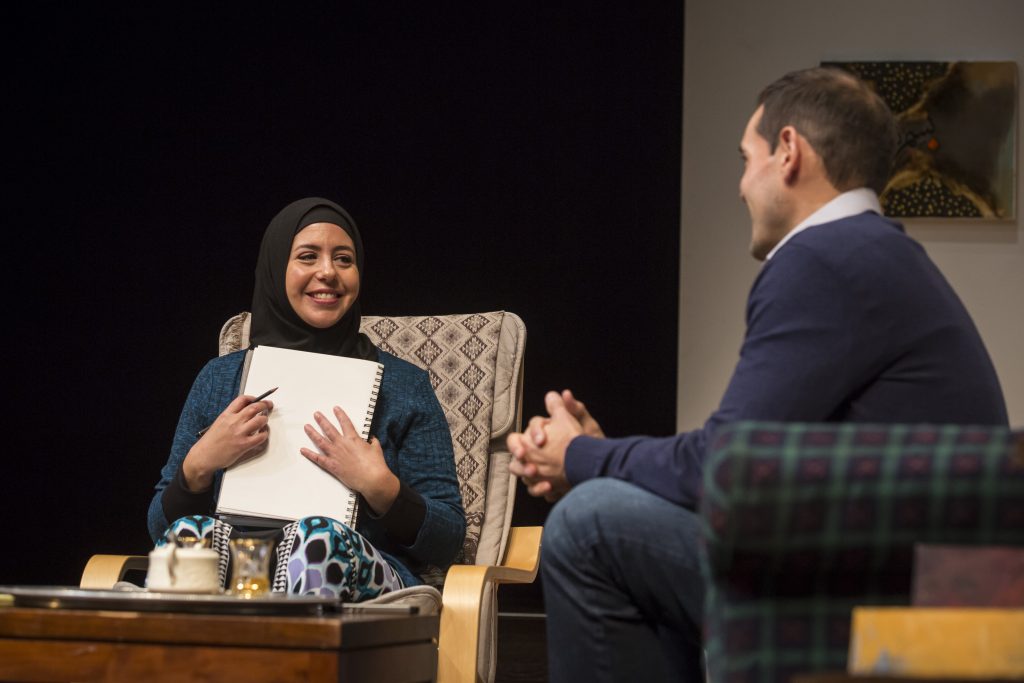 The playwright skillfully weaves humor with pathos, although the dialogue and plot revealing both these elements seems a little too pat and contrived; there aren't any real surprises here, and none of the dramatis personae comes out of character. Nonetheless, match-made-in-heaven love stories are thin on the ground these days, as are tales involving respect paid to parents and religious figures. The play is touching and entertaining with real insights into the Moslem culture as well as many genuinely funny moments. Most significantly, we like and care about all these people, no small achievement for a play.
Special mention and thanks to beautiful calligraphy and fine paintings decorating the set by Ahmad Abdulrazzaq.
For information and tickets to all the fine performances at the Goodman Theatre, go to www.goodmantheatre.org
All photos by Liz Lauren