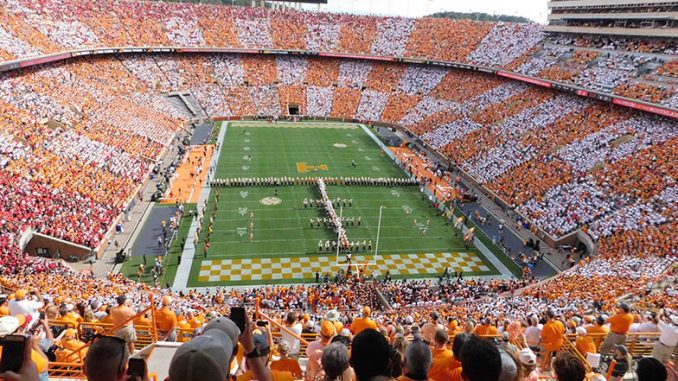 The weekend of November 4, 2017 will be filled with past and present University of Tennessee (UT) Volunteers returning to Knoxville, Tennessee for the 101st Football Homecoming. There will be many activities throughout the weekend, including; parades, park activities, UT Singer concert, Sorority and Fraternity Reunions and watching the Alumni Marching Band. The finale of the weekend will be the excitement in Neyland Stadium when UT takes on Southern Mississippi. There is no place like Big Orange Country for the fun of cheering loudly for your home team and singing "Rocky Top"!
As the weekend approaches, I can't help but think about some of the individual talents of the past that came together to achieve victories in more ways than one under the leadership of the Legendary, 82 year old Coach Johnny Majors (1977-1992). As life presses on to the finish line, I always wondered what happened to the group of guys in the late 70's who made a difference in UT sports during the time that integration was changing lives in sports and life in general.
Even though Condredge Holloway was the first black quarterback at UT (1972-1974), I remember the quick, smart, exciting, tall, lean, nice looking quarterback player from Sylvia, North Caroline by the name of Jimmy Streater known as the "Sylva Streak" or "Bird" who became an All-Southeastern Conference (SEC) Player. During his brilliant career (1976-1979), Jimmy became UT All-Time Leader in passing (3,433 yards) and total offense (4,807 yards) until last year when Quarterback Joshua Dodd broke his record. Now, Josh will be setting his own records for the National Football League (NFL), Pittsburg Steelers.

Streater's teammate, Jesse Briggs said, "Off the field, Jimmy was a nice, up-beat person, always wore a smile, very comical and loved his family". Others said they will never forget his UT years and his professional career in the Canadian Toronto League with the Toronto Argonauts. My best friend, Jeanine Orange-Jackson and I had the privilege of taking pictures with him and he was really nice to us.
If Jimmy Streater was still living today, I know he would have been at the UT Homecoming game and he would have been 60 years old on Dec 17, 2017. Instead, he left us at age 46 on February 20, 2004 with many aliments that included a stroke, leg amputation, arm amputation, diabetes and being paralyzed on his left side.

Another ironic twist in Jimmy's life was his younger brother Steve Streater, who was a star football player as a Punter and Defensive Back for the 1980 Atlantic Coast Conference Champions, the North Caroline Tar Heels.

He had just signed a deal with the NFL's Washington Redskins when a car accident left him paralyzed also. I know it had to be hard on their parents to have two sons who were star football players and both became paralyzed.
Order Jimmy Streater's Book here
The Streater's hometown folks said Steve continued to enjoy life from his wheelchair by still attending his high school and college football games. But at age 50 on June 19, 2009, Steve was also sideline from the game of life.
For those near Jimmy's age, we are moving into our 4th quarter of our lives. I hope no one ever forgets the Streaters and others who made a difference in this life whether it was the sports or a life contribution.  Some of Jimmy's former teammates who help changed UT Football over 40 years ago are still living and holding onto that brotherhood, which they still share today. 

"Vols 4 Life"- Holding on to their true meaning of brotherhood by visiting teammate/patient Otis Lee Burton; Left Side – Brian Ingram and Anthony Hancock; Right Side – Marcus Starling, Dwight Wilson, Steve Davis and Chris Bolton – Photo Courtesy of Marcus Starling
I enjoy listening to the stories of how they support one another in bad times and good times. Since I was younger than these guys, I was always taking photos of them and the photos mean more today than in days gone by.
All of us have had setbacks in our lives but if we are still alive we can still make a difference and make our comebacks. The Streater brothers can no longer do that but through their memories and legacy, they remain an inspiration. So stay in the game of life and do what you can do. Because one day we all will be thinking about you, in the same way I'm remembering Jimmy Streater and Steve Streater, here during Homecoming.
Now let's reflect on a few "Vols 4 Life" former teammates of the great Jimmy Streater and see how God continues to bless their lives.
Jesse Briggs – Wore #31 as a Running Back who injury changed his life path and recently  celebrated 20 years as a Pastor in Memphis, Tennessee with his beautiful First Lady Johnnie Briggs and congregation– Photo Courtesy of Jesse Briggs