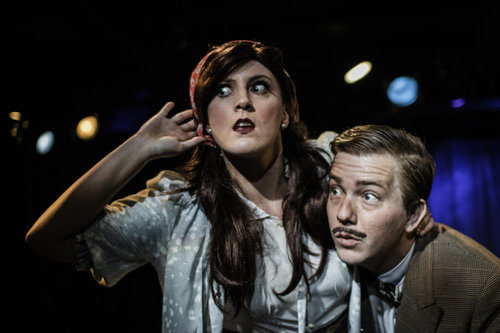 Adapted from John Buchans' 1915 novel, Alfred Hitchcock adapted this melodrama into his classic spy film in 1939. But that wasn't the end of the story. THE 39 STEPS has weathered the years with aplomb. A version of the play for four characters was written by Simon Corble and Nobby Dimon in 1995 and then rewritten by Patrick Barlow in 2005, with the cast of four playing 100 -150 roles (both animate and inanimate). Barlow's script premiered in England and won the Olivier Award for Best Comedy in 2007, eventually becoming the longest running play in West End London history. THE 39 STEPS premiered in the U.S. in 2007 and then on Broadway in 2008, where it ran for 771 performances and won two Tony Awards (lighting and sound) and four Tony nominations. Recently, the perennial favorite returned to Broadway in 2015.
THE 39 STEPS takes place in 1930's England and Scotland. A listless Richard Hannay (Kevin Shewey) is bored with life and wishes something exciting would overtake his humdrum existence – which it certainly does in short order. While enjoying the popular Mr. Memory theater show, he meets Annabella, a femme fatale and mysterious, gun-toting spy. Things are quickly changing in Richard's life – and the voltage ramps up when he discovers Annabella's corpse in his living room the following morning. But wait. She managed to let Richard know that national security was at stake – and is holding a map of Scotland in her lifeless hand. Happily, heroic Richard knows that he must follow the clues until he can uncover the dastardly plot to destroy everything in England which he holds dear.
This merry romp features the inspired casting of Lauren Thompson as Annabella/Margaret/Pamela/ Radio Announcer; the uber-talented Townsend Coleman and Carly Lopez play the balance of the 100 plus characters in the play. In a dazzling tribute to superb timing and clever direction by Kevin Chesley, THE 39 STEPS takes off for a nonstop cascade of laughs. The enthusiastic (and very energetic) principals keep the ball rolling with nanosecond switches from one character to another, each surprisingly individual for a pace which seems at times to be mind boggling. Not a moment is wasted as Richard rushes from one catastrophe to the next – with a little romance thrown in for good measure.
Stephen Gifford's successful scenic design fluidly folds in on itself as the multiple set changes in this nonstop comedy alter by the minute. Costume designer Vicki Conrad has her hands full keeping up with outfitting over 100 characters in this fast-paced adventure. Andrew Schmedake's lighting and Warren Davis' sound likewise keep the action in perpetual motion.
This is certainly not an easy, relaxed play; and the talented cast faultlessly keep the rhythm – and the fun – running smoothly. Clever satire is mixed with physical comedy, so that mind and body remain involved throughout. THE 39 STEPS is a play which the entire family can enjoy together. The kids will love the pratfalls, and the adults will pick up on every nuanced bit of humor.
SPLASH SELECTION
THE 39 STEPS runs through October 29, 2017, with performances at 8 p.m. on Fridays and Saturdays and at 2:30 p.m. on Sundays with special Saturday matinees on 9/30/17 and 10/7/17. The Actors Co-op Crossley Theatre is located at 1760 N. Gower Street, Los Angeles, CA 90028. Tickets are $30 ($25 for seniors and $20 for students). For information and reservations, call 323-462-8460 or go online.