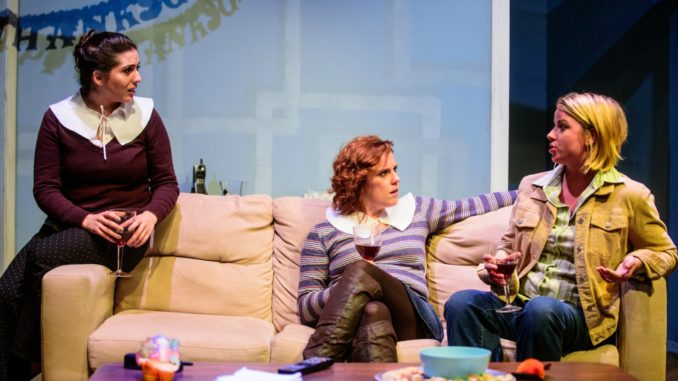 For their Summer 2017 production, The Comrades present "In The Wake" at the Greenhouse Theater Center. The Comrades is a non-equity, Chicago-based theater company founded in 2006. It's past productions, "Mary-Kate Olsen is in Love," written by Mallery Avidon, "Prelude to a Kiss," written by Craig Lucas, and "Dying City," written by Christopher Shinn, all containing elements of satire, and social and political commentary. "In The Wake" is no different, leaning a bit more heavily on the political commentary.
"In The Wake" was written by Tony Award winner, Lisa Kron, most famous for the 2013 musical adaptation of "Fun Home." The play, skillfully directed by Alex Mallory, takes place in a New York tenement flat in the East Village starting on Thanksgiving Day after the disputed 2000 election between George W. Bush and Al Gore. The story ends not long after Hurricane Katrina in 2005, placing it in about the same location, and about a decade after the bohemia of "Rent", but before East Village gentrification took its final lower income renter.
Siblings Danny (Mike Newquist) and Kayla (Adrienne Matzen) are among the remaining lower income renters living two floors apart in the same building. Danny is an easy going school teacher. He shares his flat with Ellen (Rose Sengenberger), Kayla's colleague, and a passionate, fact-driven, political activist and writer. Kayla lives with her wife, Laurie (Erin O'Brien), a person proud to say she doesn't want to discuss or hear about politics while annoyed at the politics that affects her everyday life. O'Brien's performance was spot on even if her message wasn't. Danny and Ellen have a part time roommate, Judy (Kelli Walker), who is usually in West Africa doing the best she can for refugees bouncing hopelessly between Sierra Leone and Guinea.
Sengenberger, plays Ellen with a stereotypical female activist shrillness. While the actress does a terrific job portraying the type, as with Laurie's character, one could justifiably object to the stereotype. As Ellen whines and wonders why the perfect American system of government is failing her, Danny is merely bemused. During Thanksgiving dinner preparations, he gently admonishes Ellen to tone it down for Laurie's sake, but Ellen just can't tone it down, even while assuring Danny that she listens to him. Kayla initially shares Ellen's passions, and the two banter on the telephone about Florida chads and recount court cases, but when Laurie objects, Kayla listens.
Ellen's journey takes the audience through the major issue of 2000-2005. The issues are projected to the audience through real, contemporaneous television news clips on a screen behind the set. As time goes on, life intervenes, and changes each character, except Ellen. While the others grow weary of keeping up with fast-moving events and changes in the country, and want to go back to their insular lives, Ellen's still blurting out facts and ideas, and corrections to her friend's errors in logic and judgment until they find her intolerable. Ellen is outwardly certain, but in asides to the audience, she questions herself and wonders about a nagging, mysterious blind spot interfering with national and personal progress.
The play goes on a little too long trying to prove its point about Ellen, and her endless facts and opinions, yet somewhere between each of her lectures, and some distracting set changes from flat to hotel room that interfere with the background news clips, Ellen finds time to befriend Judy who is overwhelmed by her dysfunctional, low income, red state family, and beleaguered young niece Tessa (Samantha Newcomb) in particular.
Ellen also meets and falls in love with independent filmmaker, Amy (Alison Plott). Amy shows interest in one of Ellen's theories about taxation and strip malls, and Ellen learns about Amy's interest in negative spaces, those spaces between objects. Amy points out that if you draw the negative spaces, you get a bolder and richer picture of the object, and the women connect romantically when the two ideas, and their hands, intertwine. Soon this very tangible passion turns into a tiresome and unbelievable love triangle, but it does serve to illuminates more about each person. Interestingly, while Kayla and Laurie scorn Ellen for her behavior and politics, they play a little family politics of their own.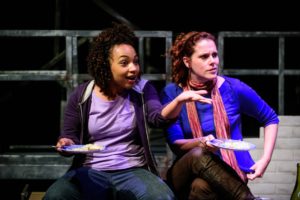 The play gets to its heart, and the heart of Judy, the mostly absent roommate, a little too late, but Kelli Walker's quietly percolating desperation was perfect, and came just in the nick of time. With Tessa as an example, Judy schools Ellen on real lives of the people Ellen claims to defend, and eventually reveals a secret about herself that exasperates Ellen at first, but eventually sparks Ellen to better understand her blind spot.
"In The Wake" presents many issues of the last decade that affect us today, and the subject matter is probably more relevant now than Lisa Kron imagined when she first produced the play in 2010. However, while it brings up many important points about how we discuss (and don't discuss) politics in the United States, the play mostly tears down its heroine until her knowledge, passion, effort, and humanity are obliterated into caricature. With all the current cries of "fake news," "libtard," and all the fact free cliché talking points influencing national policy, the country may not need one more portrayal of a female activist as a pointless, silly woman. Nonetheless, the play is well-structured, well-acted, and entertaining, and shows the value of those negative spaces between the main objects. With the brief and late exception of Judy's lessons, "In The Wake" has more entertainment than political or cultural value.
"In The Wake" runs Thursdays through Sundays at 8:00 pm until August 26, 2017. Tickets can be purchased in person at the Greenhouse Theater Center, 2257 N Lincoln Ave, Chicago IL, by phone at 773-404-7336, or online at the website http://www.the-comrades.com/box-office/. Ticket prices range between $15-$20.
Photos by Paul Goyette