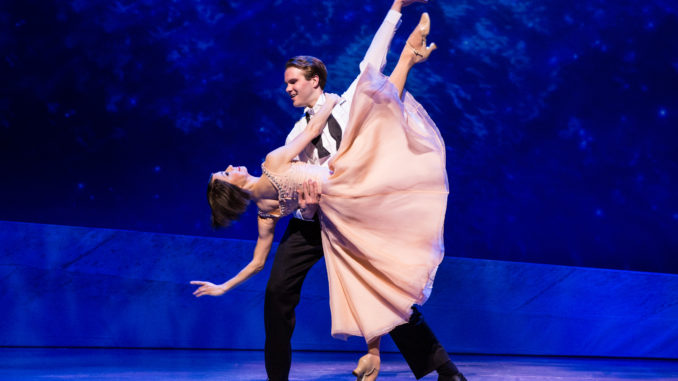 The National Tour of American in Paris, now playing at the Ford Oriental Theatre, comes with the sub-caption, "A New Musical." Calling it "new" might well be appropriate considering anyone familiar with the 1951 Gene Kelly movie-musical by Alan Jay Lerner will need to squint extremely hard to recognize anything even remotely reminiscent of their beloved film.
Librettist Craig Lucas somehow managed to butcher a happy romantic tale about love and possibilities by transforming it with a contemporary outlook complete with discussions of PTSD, the Holocaust, Nazi-occupation guilt, and sexual orientation. Many of the popular songs from the movie such as, "Nice Work If You Can Get It" and "Our Love Is Here to Stay" are replaced by some very obscure Gershwin novelty tunes, like the brainless jingle, "Fidgety Feet" and the aptly titled, "Who Cares?"
Yes, the dancing is wonderful, even gorgeous. The dance numbers are where this show's vitality comes to life and where the cast brings forth an energy they're missing everywhere else. But the splendid dances hardly make up for the excruciating amount of book scenes that we're unmercifully forced to sit through.
I kept wondering: Since when is it ever good to put story behind spectacle? Isn't the very point of going to the theatre – as opposed to a ballet or an opera – precisely because the story takes precedence over everything else? And, if a dance recital is what you're going for then why even bring up the Holocaust?
The plot clearly doesn't matter much in this stage version, with a cast consisting of an athletic group of professional ballet dancers directed and choreographed by Christopher Wheeldon (an associate choreographer from the Royal Ballet). Here, romance becomes ignited through dance and then extinguished moments later by a cliché-ridden storyline made worse by some truly cringe-inducing acting by the same dancers. In fact, so much emphasis is on the choreography that a far more suitable subtitle would be to call it, An American in Paris: The Dance Concert.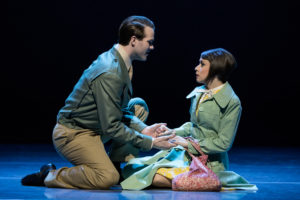 Set in Paris immediately after WWII, Jerry Mulligan (McGee Maddox) is an American painter and an ex-soldier from the war. In the stage version, Jerry is far less opportunistic but is instead grappling with a minor form of PTSD. He still owes a debt to the rich, beautiful Milo Davenport (Emily Ferranti), an American heiress. However, rather than paying Jerry money in return for sexual favors (as in the movie), Milo gives him a job designing sets and costumes for a ballet company where he runs into the beautiful, but elusive ingénue Lise (Sara Esty). Once secure in the job Jerry no longer has to worry about breaking things off with Milo (and her enormous funds), meaning the show never really figures out what to do with her character. Thus, all sense of conflict gets tossed out the window.
To compensate for the lack of stakes Mr. Lucas and Mr. Wheeldon overload the second act with some dark exposition on Lise. She is not only Jewish now, but also had her family exterminated in the Holocaust and was then forced into hiding by the Baurel family, who as it turns out were members of the French Resistance. It's all too much; the movie covered Lise's history in about two sentences – so why the unnecessary backstory? No one is invested enough to really care.
If that's not enough, they also made Lise's fiancé, Henri Baurel (Nick Spangler), a closeted homosexual. So in addition to Henri dreaming of being an American Broadway performer, which his parents (Gayton Scott and Don Noble) despise of one moment and then instantly love the next, I was seriously concerned that Henri was going to have a big "coming out" scene at the end. It really seemed for a while that Mr. Lucas was going to have Henri end up with Jerry's ex-patriot pal, Adam Hochberg (Etai Benson), who keeps telling everyone that "loyalty and honor mean nothing in the face of true love."
And for no reason whatsoever, this whole show is framed as a "memory play" unfolding in Adam's head. The character breaks the fourth wall and addresses the audience at the beginning and end of the show. Adam is a stand-in for Gershwin himself making this whole production seem like the composer's own boozy flashback. Since there are already two numbers that materialize for us within the imaginations of Lise and Henri it's too confusing to have the show transpire within Adam's mind. Adam might be intuitive, sure, but he's not mentally telepathic.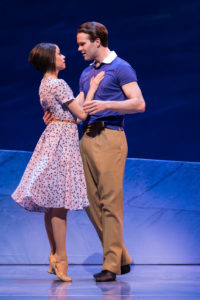 One of the most complex dance numbers is a 15-minute ballet at the end of Act Two. Mr. Wheeldon, with new dance arrangements by Sam Davis, bizarrely changed this number from being an enormous dance spectacle and revised it into an abstract ballet – complete with the ensemble dressed in abstruse masks and costumes that look like they had just leaped off a canvas and began dancing.
This change, while beautiful to watch, completely guts the specific Parisian references that Gershwin built into his original orchestrations. Far worse, it cheats Jerry's character development. In the movie Gene Kelly was a hoofer, a truly all-American style of dance, however, in the stage version, McGee Maddox is a classically trained ballerino (the male equivalent of ballerina), a traditional European dance form. This switch alone seemingly takes the "American" out of "Paris" which depletes the very essence of the show. Additionally, Christopher Austin and Bill Elliot's orchestrations, combined with Mr. Davis's dance arrangements, aren't nearly as enticing or creative as the one that the great MGM arranger, Conrad Salinger, came up with for the film.
Perhaps the narrative came off so rough because many of the performers are not triple-threats. This is one of the most poorly cast tours I've seen in a while. Most of the leads were obviously picked for their dance abilities leaving us with some of the worst acting I've seen outside of a community theatre – I'd be less harsh if the tickets weren't going as high as $103 a ticket.
It's a real challenge not to wince anytime Mr. Maddox isn't dancing. Without any choreography to hide behind the poor guy looks frightened to be on stage. He's not playing a character as much as just spewing a bunch of memorized lines out in choreographed fashion. I almost wish the role were double-cast, with a main actor playing Jerry and Mr. Maddox appearing only as the character's dance-double – a throwback to the "dream ballet" moments with Rodgers & Hammerstein.
Sara Esty is thankfully a tad better at communicating a character, even when not dancing, yet she also struggles in the dialogue scenes. Her "French" accent often morphs into a weird form of British making it very hard to view her as anything except a performer the entire show. Her sad moments look too rehearsed. And since the chemistry between Esty and Maddox is non-existent it depletes all sense of sexual passion from this whole production.
It's not just the dance roles that were crudely cast, and poorly executed, so are some of the acting roles. Milo is supposed to be a wealthy middle-aged heiress (the character is based off Peggy Guggenheim). So why'd they cast someone who looks barely 30 years old? Ms. Ferranti is giving the role some great 1940s flair, but whenever Milo has to play off of Mr. Maddox's Jerry the actress suddenly feels totally out of place, as if she were delivering her lines to a piece of furniture.
There are some standouts in this production. Etai Benson is all-around brilliant as Adam, adding much-needed layers of humor and desire that keep the momentum of this piece from truly dying out. Similarly, Nick Spangler has a lovely voice and is a skillful actor that made his signature number, "I'll Build a Stairway to Paradise," a wonderful standout. Both actors are doing rich, expressive, and emotive work that unfortunately only highlights the inconsistencies in their fellow leads.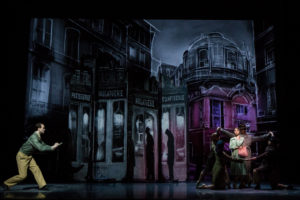 I'm also not crazy about Bob Crowley's cheap-looking set designs. It's too monochromatic for a city bursting with newfound freedom just after the war. While using a flat projector screen emphasizes that this is a memory piece from Adam's perspective (like witnessing a slideshow in his mind), it also takes away from the visually evocative feel that only Paris can bring about. A missed opportunity.
Although I admire Mr. Lucas's work on the emotionally enthralling Light in the Piazza, in Paris the story's just an idiotic vehicle with which to deliver a bunch of dance numbers. To be fair, one can only do so much when updating a movie from 65 years ago. While simple amour is hard to translate, especially with the "acting" in this tour, I have to believe there's something better than adding a bunch of Jewish and Gay angst. The darker material really doesn't blend well with the jovial jazzy Gershwin music anyway.
Impressive choreography can only save so much when everything else isn't up to par. If only the narrative that drives these dances wasn't so awful I would be more incline to give this tour a better rating. My advice is to just rent the movie instead. This tour doesn't even come close to it.
Bottom Line: An American in Paris is Not Recommended
An American in Paris – Broadway In Chicago
Running Time: 2 hours and 30 minutes, with a 15-minute intermission
Location: Ford Oriental Theatre, 24 W. Randolph St., Chicago IL 60601
Runs through: Sunday, August 13
Curtain Times: Tuesday, *Wednesday, Thursday, and Friday at 7:30 PM, Saturdays at 2 PM and 8 PM, *Sundays at 2 PM.
*Additional 2 PM performances on Wednesdays
* There is an additional 7:30 PM performance on August 30.
Tickets and Reservations: $27.00 – $103.00. Tickets are available at all Broadway In Chicago Box Offices including 24 W. Randolph St., 151 W. Randolph St., 18 W. Monroe St. and 175 E. Chestnut. Tickets can also be purchased by calling the Broadway In Chicago Ticket Line at (800) 775-2000. They can also be purchased at all Ticketmaster retail locations. As well as online.
Group and Premium Tickets: A select number of premium seats are also available for many performances. Tickets for groups of 10 or more can be reserved by calling Broadway In Chicago Group Sales at (312) 977-1710.
Photo Credits: Matthew Murphy