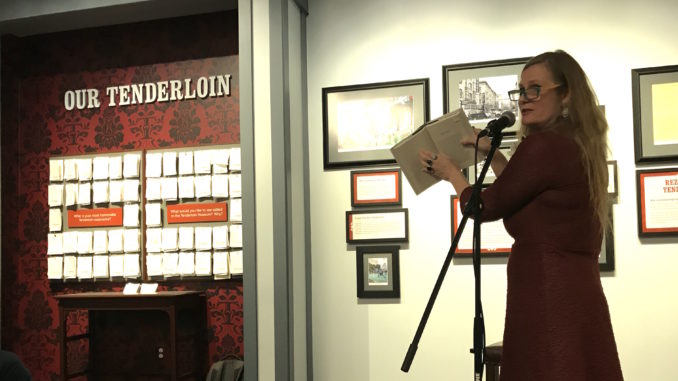 *(Lidia Yuknavitch will be appearing in Brookline Booksmith, Boston, May 5th and Greenlight Books, Brooklyn, May 8th).
When Booksmith in Haight Ashbury scheduled the Lidia Yuknavitch Book of Joan release book tour stop in San Francisco the celebration of 4.20 in the streets was not yet announced. According to Booksmith on their Facebook page this bacchanal in "the" Haight provided good reason to close the store at 4 pm in recognition of the festivities and greater enthusiasm with recreational marijuana in California now legalized.
Booksmith founded in 1976 remains an independent bookstore located at 1644 Haight Street close to the famous Haight/Ashbury intersection. Not isolated from consequences of generic chain bookstores, changing demographics and shifts in consumer behavior Booksmith founder Gary Frank sold the store to current owners Cristin Evans and Praveen Madan in 2007. Ten years later after revamping, being nimble to the literary community, Booksmith has become a San Francisco literary go-to with 200 in-store author readings a year.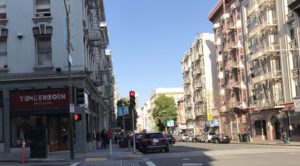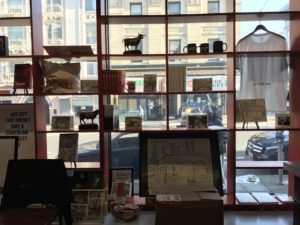 Evan Karp, Booksmith, Events Manager was tasked to find an alternate venue for the Lidia Yuknavitch 4.20 event. His choice, The Tenderloin Museum. On the corner of Eddy and Leavenworth Streets in the heart of San Francisco's Tenderloin the two-year-old venue would host Lidia's reading and signing.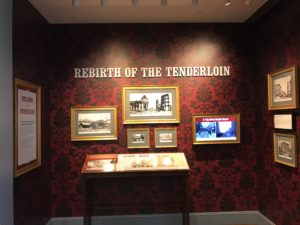 Noted on their website The Tenderloin Museum celebrates the rich history of one of San Francisco's most misunderstood neighborhoods. The 31 blocks of the Tenderloin district are the beating heart of the city peopled by immigrants and iconoclasts, artists and activists, sinners and saints. When the Tenderloin Museum opened its doors in July 2015, Katie Conry served as its Program Director, with a dynamic vision for neighborhood-centric, diverse programs that bring people together from all walks of life.
The Tenderloin continues to be a living library of story. It was here that Blackhawk Jazz Club hosted Miles Davis, Billie Holiday, Charlie Parker, Dave Brubeck, and Thelonious Monk. Tales of immigrant stories of struggle and success grew from these sidewalks. The Tenderloin's role as a center of LGBTQ activism. Where the Grateful Dead, Creedence Clearwater Revival, and Crosby, Stills, Nash & Young recorded at Wally Heider Studios.
Vice, gambling dens, speakeasies, bordellos, and a historic sex worker protest of 1917 played on the stages of streets in the Tenderloin. The Tenderloin's rich present-day community is reflected in live music and theater performances, film screenings, lectures, local artist exhibitions, poetry nights and more.
And Lidia Yuknavitch reading from The Book of Joan on 4.20.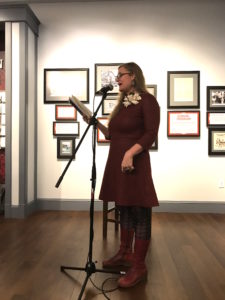 Lidia Yuknavitch is as real as the Tenderloin. There is nothing false about her. Her heart and body beat to an energy that is found on the streets framing this stop on her book tour. She is fazed by nothing except people who make a fuss over her. She is not about ogling or exaggerated recognition. She is not about "buzz." She is not about fame. She is about heart and soul, giving belief and energy to the audience, speaking out for people who cannot. She reminds people she is their shadow and a voice, a whisper. Words like grit, vibe, kindness, rock and roll, generosity; activism, heart, soul, alternative and authenticity used for decades to describe the Tenderloin are bindings in  Lidia Yuknavitch's DNA.
There is a story in everyone's body. Feel it, dig into it. Bring it out. No one can tell it like you. Lidia will say this in her classes, in her presentations, on stage, to your face. Every fiber, every cell in Lidia's body pulses with story and passion, love and gratitude even when she is writing the dark stuff.
Whether audience of one or as with her 2016 Ted Talk, The Beauty of Being a Misfit at almost two million spawning The Misfits Manifesto due out this fall, those who witness her telling it like it is or sharing her story as 'your' story the writer's spoken and written words penetrate in ways many thought  unique to them percolating in locked away spaces. Places that Lidia has found a way to inject her verbal elixir.
The event is held in a room one can imagine listening to Dashiell Hammett reading from The Maltese Falcon, Billie Holliday singing Strange Fruit, Miles Davis going on until dawn. Beat poets going at it. Bottles of booze. Rings of smoke. A place for a neighborhood provided Thanksgiving.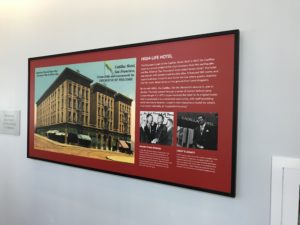 On 4.20 at 7:30 pm Lidia moved to the small space level to chairs in the audience in the main room of the museum. She walks with poise and humility almost apologetically as if she is interrupting its legend. "My name is Lidia Yuknavitch and I'm scared shitless," She starts. "But I am not scared of you because if you're here, particularly here then it must mean you give a crap about things like literature and art and love and LGBT people and people of color and women in the face of a certain kind of apocalypse. So it's not you I'm frightened of, I'm a little frightened of the time."  She doesn't preach. She is not scripted. She does not move around with performance animation.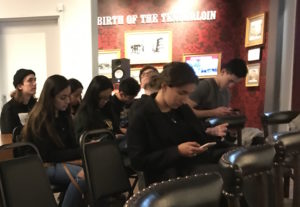 Lidia Yuknavitch pulses lightly in comforting presence. Graciously, she touches the gardenia pinned to her chest from a friend. She points to one or two people and gives them a shout out for what they do. Rebecca Solnit sits in the back row of the intimate crowd. Lidia acknowledges her with warmth, honor and sincerity referencing Solnit's new book, Hope in the Dark. She says, "Thank you for all you do. I cannot believe you are here. Thank you. I love you."

Yuknavitch's simple self-aware way is contagious, comfortable in her body and her presence. She acknowlegdes the challenge of being in front of a group and is modest about her accomplishments. Ones that follow an abusive background she  references as a source for drive and motivation. She briefly talks about these chapters in her past but only as a segue so people can find their own personal sense of value and potential. This is Lidia Yuknavitch.
The Book of Joan is a reimagined story of Joan of Arc in a future dystopian world set in a time that is within eyesight of our current days. Joan of Arc in not a randomly picked choice for Lidia Yuknavitch. She will tell you that Joan helped her survive and trail blaze her own journey. Yuknavtich holds up a copy of the book and summarizes it with few remarks and smirks at its relevance even though she wrote it three years ago. She highlights references with understood subtleties about the state of the country, elected officials and the globe. She is applauded with nodding heads and single word comments.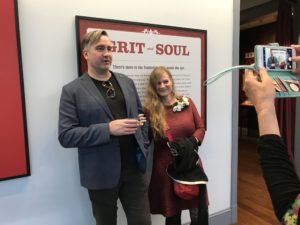 Andy Mingo, Portland-based director, and producer stands within eyesight on the side of the room watching his wife proudly. With a look, a smile or a tilt of her head, she lets her anchor know she is okay. Other anchors, Brigid, her sister, poet, coach and psychodrama practitioner and Miles her sixteen-year-old son who looks like he stepped out of a Bogart film are home committed to school and work schedules.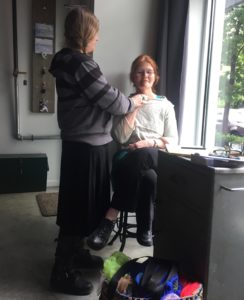 When Lidia speaks their names a veil of pride lowers over her face. Pride that is mirrored when she talks of students in her classroom or in her workshop series under the Corporeal Writing brand who she works closely with writers Zinn Adeline  and Domi Shoemaker who sustain the passion and shared vision of the program.
Lidia threatens that if no ones ask her a question during Q and A which she says is the weirdest thing on the planet she is going to ask someone in the audience something really personal because she hates the silence.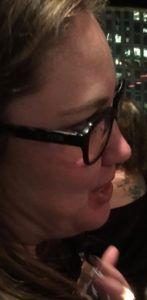 Lidia Yuknavitch focuses on the story of her character making her character the author and Lidia the publicist. Rarely, a week goes by without a mention of someone's writing on her Facebook page. She doesn't read to the audience. She breathes out words in rhythm, tone, and volume that blow over the listener like dandelions in a gust of wind. In our own silence, we are sprinkled. Chilled by hearing Lidia's words as our own story. Hypnotized by her flawless delivery.
When I first heard Lidia read her essay, Woven nothing in my body moved except for long breaths inhaling her words. When she spoke at the annual AWP conference on several panels I was encouraged by her passion and commitment to not just talk about change but to inspire it and stand with it.
It is two weeks since the release of The Book of Joan. Reviews and discussions are widespread including
The New York Times Sunday Book Review, Kirkus, The Washington Post   Buzzfeed published Top Ten Quotes from Lidia Yuknavitch and Why Now is the Time to Listen
One just has to Google Lidia Yuknavitch and 141,000 results (as of this writing) come up in .58 seconds.
The Book of Joan has appeared on multiple most looked forward to or must read lists for 2017. Lidia, in addition to The Tenderloin Museum appeared at Powell's in Portland, Tattered Books in Denver, and Elliot Bay Books in Seattle, Books, Inc. in Berkeley, Festival of Books in LA. Coming up, Boston and Brooklyn.
When asked what would she say to Joan today, in person, Lidia responded with "I'd say hey, I wanna be on your team and thank you.'
And to Lidia Yuknavitch we say, we wanna be on your team and thank you!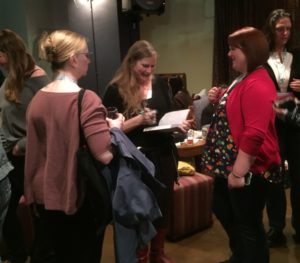 Lidia Yuknavitch's books include national bestselling novel The Small Backs of Children, winner of the 2016 Oregon Book Award's Ken Kasey Award for Fiction as well as the Readers Choice Award. Her memoir The Chronology of Water was a finalist for a PEN Center Award for creative nonfiction and winner of the PNBA Award as well as the Oregon Awards Readers Choice. She also wrote Dora, A Headcase, three books of short fiction-Her Other Mouths, Liberty's Excess, Real to Reel and Allegories of Violence, a critical book on War and Narrative. More on Lidia Yuknavitch can be found here (Lidia website.) More on Corporeal Writing.
Upcoming events with Lidia Yuknavitch include:
The Muse and the Marketplace Writers Conference, Boston, May 5th-7th
Brookline Booksmith, Boston, May 5th, 7pm; Book of Joan signing
Greenlight Bookstore (Fulton street location), Brooklyn, NY Monday, May 8th at 7:30pm
Lidia will also be part of Pam Houston's Writing x Writers Conference in Methow Valley, Washington
For information on Lidia's on-going Corporeal Writing series see here 
Visit Lidia Yuknavitch's website  for all more information, news and updates.